Sunglasses

Eyeglasses

Sun Clips

Collaborations

Extras

Stories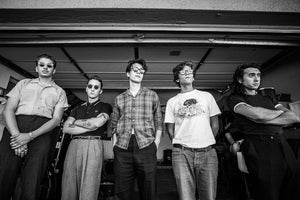 ---
Mixtape No. 47: The Buttertones
Mixtapes /October 10,
Words: Freza Paro
Collaborator Photos: Steve Thrasher
---
The Buttertones
The Buttertones

In the past five years, the Los Angeles rock 'n' roll scene has seen something of a renaissance. Independent festivals are popping up every month and fans are lining up at local venues to support independent artists. Though the scene is brimming with young bands, few are as exciting as The Buttertones, an energetic five-piece consisting of Richard Araiza (vocals/guitar), Sean Redman (bass), Modesto Cobian (drums), Dakota Lee Boettcher (guitar), and London Guzman (saxophone). Though it's tempting to describe their sound as surf punk or garage rock, it's a trite undersell of the band's complex sound. Instead, they expertly blend elements from each of those genres, while creeping into peripheral musical territories like cowpunk, rock 'n' roll and Chicano rock. Their music is notably cinematic, with each high-speed song spilling over with romance and sadism, blood and guts, doom and delight.


The band began in 2012 when Redman, Araiza and Cobian, who were all finishing their respective programs at an L.A. music college, bonded over a mutual love of mid-twentieth century music. In 2014, Araiza introduced guitarist Boettcher as the band was preparing for their debut release, a self-titled cassette on L.A.'s garage-pop Lolipop label. Shortly after, the band added London Guzman (formerly in Long Beach's Wild Pack of Canaries) and his bawdy tenor sax tones onto their 2016 album, American Brunch.




Recently, the band signed with L.A. indie heavyweight label, Innovative Leisure, with whom they released their most recent full length album, Gravedigging, earlier this year. Recorded at Jazzcats studio in Long Beach, the band's sound was distilled and focused through the laserlike lens of producers Jonny Bell and Joel Jerome. Though they had worked with Bell and Jerome before, the producers pushed the band hard on Gravedigging. "Joel's really good at finding references for us – bands that sounds like us and so on," Boettcher explains. The resulting sound is an exuberant and raucous production with sinister undercurrents and retro echoes, and you hear the band channelling a darker tone than in past albums.



The Buttertones are noted for their eclectic reference points in both their sound and visual presentation. A simple question concerning their favorite bands receives a wave of enthusiastic answers — amongst them Wild Wing, King Gizzard and the Lizard Wizard, Vinyl Williams and Brain Story — so diverse and unknown to me that I'm quickly forced to abandon my handwritten notes in an effort to keep up. When asked about their favorite film genres, the answers run the gamut from Italian mob movies to Jodorowsky to Western film noir. These influences are apparent in their Matador and Gravedigging videos produced by friends and fellow musicians Wild Wing, and feature the band jamming in a grungy warehouse in smart suits and a Reservoir Dogs-reminiscent car chase scene. "They're just really talented dudes," they tell me. "It's always good to work with people you know." Says Redman, "Everything we do is within the family so to speak. It does help when they come with inspiration because sometimes our ideas are hard to translate."




While a strong frame of reference has certainly helped build a strong foundation for the band's forward progression, it's impossible to ignore the hard work and good humor that have kept them so down to earth. The L.A. music scene can be a real banger with very real casualties. "There were some points when this house was never just full of fucking musicians partying. This was the fucking house to be for a while," they recall. "But now, everyone's just grown up a little bit," says Redman. "We've got a fuckin' succulent garden now," Boettcher laughs. Having just returned from a European tour, the band is slotted for a couple of headlining shows and a festival to round out this year. Next year holds the promise of a new record and a slew of new tour dates, with the guys planning to hit the East Coast in the beginning of 2018.


---