Sunglasses

Eyeglasses

Sun Clips

Collaborations

Extras

Stories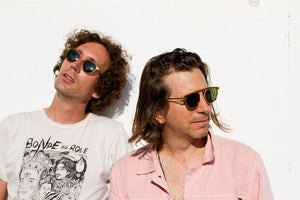 ---
Mixtape No. 46: Poolside
Mixtapes /September 13
Words: Dustin Beatty
Collaborator Photos: Dustin Beatty
---
Poolside
We haven't even started the interview and Filip Nikolic of Poolside is already reaching for a bottle of his finest Mezcal from a private stash. Both he and bandmate Jeffrey Paradise are fresh off the plane from an overnight DJ gig in Mexico City. They've hardly slept, but a little hair of the dog seems extremely appropriate given the night they've had. Plus, who the doesn't like shooting the shit over a few glasses of Mexican whiskey?


DJing is something they know all too well. The duo is constantly traveling around the world playing their signature "daytime disco" and slow syncopated dance music. Their two full-length albums are entirely self-released, a practice they highly encourage other artists to pursue so they can benefit fromthe longevity that streaming affords. Reading between the lines between sips of Mezcal, they seem to have figured it out in a climate where record labels are shuttering as quickly as another one opens. "We learned a lot of shit the hard way," adds Filip. One of the biggest lessons, he says, is that you don't have to be famous in order to make money. It's completely counterintuitive advice for anyone hoping to stand center stage. "You have so much more opportunity now as an independent artist than you ever have," remarks Jeff. They're certainly riding the wave. Their 2012 debut album, Pacific Standard Time saw more people streaming it this year than the year it was released. Poolside has nailed down a sound that harks back to twenty years of tradition with producers like Andrew Weatherall and DJ Harvey, who have mastered the timeless practice of always sounding relevant. If there is a certain familiarity in their DJ sets it's because they can play their own music which, Filip notes, "not a lot of artists get to do."




Poolside's global reach also comes with an elevated sense of taste – and they're not just referring to fine Mezcal. When the two get some time away from producing or playing, Jeff turns his attention to fine coffee and the idiosyncrasies it takes to make a fine cup. More recently, he's been sharpening knives, an interest inspired by a butchery class he took in his native San Francisco, a town he feels doesn't match his evolving taste in food. Instead, returning home from tour offers the luxury of preparing things just the way he likes. Filip, on the other hand, can't get enough of the stunt wood. "I'm fucking obsessed with skateboarding!" he exclaims when asked about his other passions. "It's the biggest art form in our civilization. Skateboarding is a really intense expression of culture and it doesn't require any other source than the moment. It's way less egotistical than making music or making art. When you're making something it's hard not to think about where it's going to be seen or heard." There is a certain level of timidity that any artist feels when they've let their work go out into the world. Filip says this of the remix he did for Ryan Gosling's enigmatic rock act, Dead Man's Bones. Even though it was cut seven years ago, he recently revisited it as part of a remix compilation he released with his Turbotito treatment of Edward Sharpe and Magnetic Zeros, Mobroder, Borneland and several others. Jeff also just released a laidback new single on his own called 'Dream With You.'. It's a sunny collaboration with Burkinabe singer, Mandjou Koné that's already hit dance floors with a remix by Boston's own Bosq.




Between DJing, producing and releasing their own music, the future is looking pretty bright for Poolside. Heat is officially out and even though the summer days are getting shorter, their vibe will move inside with some solid club dates booked through the fall months. You can always channel their energy with mixes like this if you want to bring yourself back to a beach bar at golden hour sipping a glass of fine Mezcal. Visit Poolside Music for more.


---