Sunglasses

Eyeglasses

Sun Clips

Collaborations

Extras

Stories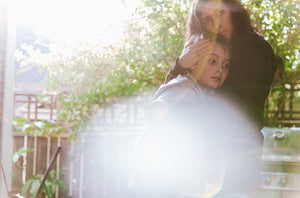 ---
Mixtape No. 23: Clare V.
Photos: Laura Austin
Words: Adam Johnston
---
Clare V.
Clare V.
Outsider Advantages & the Million Dollar Question
Read any profile of Clare Vivier and you'll find some turn of phrase about how her bags hug the clean line between Parisian chic and California cool. There will be cute stories and oft-repeated lines from her bio that help sustain that easy assessment and clever combination of words and meanings. But she is naturally neither of these things. She was born in Indiana, grew up in the Twin Cities, went to school in SF, moved to Paris, moved to LA, started a blog, started a line. And lives lived in between. Despite her name and despite her style she's not from France and she's not from California. It's complicated. There is more to a person than just another alliterative anecdote.

"My fashion blog began at the same time I started designing my collection. This was all very much in the beginning of fashion blogging in general. I didn't have any experience in the fashion business and I didn't have any money behind me. I was just freelancing and trying to start a bag line. I had to figure out how to market it and brand it. So I thought, maybe I'll start a blog and I'll tell the story of who I am. Maybe people will be interested in taking this journey with me as I start the line and the new designs that I was coming out with, while at the same time documenting my love for fashion. I went on a blind faith that other people might be interested."
So we happily follow Clare...what was the name she was born with?...to Clare Vivier to Clare V., for various legal reasons that can be easily explained with a few hundred more words from your editor. She moved to Los Angeles a decade ago and reinvented herself in the convention and contradiction of those who came before us; blogger to designer, critic to creator. These are all fluid boundaries, free of labels, so like her bags.

"I was never intimidated by what other people were doing because I feel like we're outsiders here in LA. A lot of us right now, people who are doing really well in LA fashion, have benefited from the fact that we are outsiders and don't have to conform to the old fashion world. When you start a company with one person, then two people, you learn how to do every single job for the company. If you want to come in and work for a company that has four people, well then you probably have to do everything. You have to ship bags, you have to visit factories and know how to get yields from leather. I feel like I've done the job of everyone who now works for me, but they're doing it on a much larger scale. But I know what they're doing."

When people describe Clare V.'s work, one thing they always come back to is her authenticity. But maybe authentic isn't the right word, or authenticity the right aspiration. If you're trying to be authentic haven't you already lost? Perhaps the right word is real; as real as the touch of a gorgeous skin of leather, as real as balancing a husband and a kid and a label, as real as an unorganized closet.
When you start a company with one person, you learn how to do every single job for the company.
"I've grown so organically that everything I've made, I've put back into the company. I never spent more than I had and I never thought that I needed to spend more than I had. I've always been very conservative with what my needs were, so I didn't make big hires or move into big places. Maybe some companies get in trouble when they think they have to be bigger than they are. So they rent out nice offices that they can't afford. I made very conservative, conscious hires of people who had a real can-do attitude."

"The people at the company are the most important element and keeping everyone happy, which is near impossible, but at least trying and conveying to them the message of the company. The success that we've had is about them as much as it is me. I think it's important to make people feel like they're part of something and not that they're just working at a company. That they're building something with me." Follow the strands of her narrative and you see that she was not destined. This is not fate. How many former journalists run a fashion brand? This is drive, and desire, and details, and all the little decisions and mistakes you make and those you don't make that make up a life and an identity.

"I think people might see us as an established company at this point, but I don't rest on any laurels. I don't feel that way. I feel like I take things day by day. I don't take anything for granted because I know how fickle the fashion industry is and you know, you're here one day and gone the next. There are so many balls in the air that you have to keep your eyes on when you're running this type of business. I am just thankful for every single day that we get to keep going and keep growing."

Read any of her Insta-ready quotes from earlier profiles about pursuing your passions and following your dreams and you'll realize you're reading the words of a true believer. An outsider who made her way in, then found a home in a land of outsiders. And Los Angeles, even when it's 'Los Angeles', needs this can't-look-away mix of outsiders and believers in order to sustain the stories it tells about itself. "I think the million dollar question is how do you grow and still stay who you are. I think that's the most important, especially for founder-owned companies like my own. As long as we're involved and conveying the message to the consumers, employees and the people that are selling the collection — that's the only way I know how to do it."
The million dollar question:
how do you grow and still stay who you are?
So the point of this profile, the point of this story, the point of all stories goes something like this: the stories are the point. Whether you're a journalist or a bag designer or the head of an eyewear company, you're telling yourself stories in order to live.
---