Sunglasses

Eyeglasses

Sun Clips

Collaborations

Extras

Stories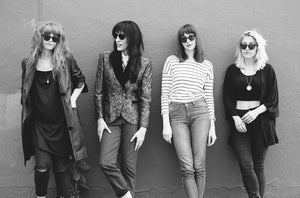 ---
Tête
Photos: Josh Spencer
Words: Emily Draznik
---
At times it's hard to envision Los Angeles as anything but a hub for mainstream music and entertainment. If you take a stroll down Hollywood Boulevard you will pass over hundreds of the biggest names in music. It paints a picture of a city filled with Billboard chart-topping singles and music videos with budgets comparable to an independent film. But much like smaller cities that aren't entertainment powerhouses, we have our own independent garage band scene that echoes the beginnings of rock-n-roll. Take venues like the Troubadour, Echoplex and Burger-A-Go-Go. These places regularly host musicians like Echo Park natives Tête,a revolving quartet of dreamy fem-rockers that sound like Haim and David Bowie had a love child. The constant members include Kimi Recor of Draemings and Bleach Egg and Jax Cingolani of Darklands and Spirit Vine. These ladies sat down with us at GLCO to talk Sour Patch Kids versus gummy bears, their beginnings in music and favorite LA hangouts.

We heard you guys met all because of a bag of gummy worms. Could you please give us a little more detail on that situation? What flavor were they? Jax: HARIBO GUMMY BEARS! That's all I can say about that, the meeting was gummy worms and a chance encounter at Part Time Punks. Kimi: They were probably Sour Patch Kids. I actually don't think we met because of a bag of gummy worms, but I'm almost positive we bonded over a bag of Sour Patch Kids. Who are your band's strongest musical influences? K: I always find this question so hard to answer. Probably My Bloody Valentine in terms of Sound. Production-wise I try to recreate MBV and Cocteau Twins vibes, lots of distortion, reverb and delay.
Where is everyone from? How did you guys get your start in music? J: I was born in Venice and I moved around a tad and ended up back in LA. I think my start in music came from my mom taking me to a Bangles concert when I was six. I remember watching them and thinking "I wanna do that too." Then my mom got me into Blondie and then hip hop came and finally punk. Stiff Little Fingers "Alternative Ulster" was when I knew I wanted to be in a band and my mom got me my first electric guitar. But, when I heard At The Drive In, I knew I had to be in a band. K: I think everyone is from California except me. I was born in Germany and moved to the States when I was 12. I got started in music when I tried to start a punk band at age 16. None of us actually knew what we were doing, and I think we played one show before we gave up.
We're constantly inspired by people who create because if they don't, they'd fall apart.
What are the main differences in working primarily with other female musicians in a band? J: I had come from ten years plus of working with only guys, so it was a little bit of a shock for me, but Tête has pushed me in ways I never thought I'd go. I need that. I need constant fire. K: Emotions run high! Which makes for great songs. It's a totally different dynamic in that sense. Not to say that guys don't come with emotions, but women seem to have this beautiful strong/delicate dichotomy that bring something completely different to the table. Are you guys coming out with new music soon? What's on the horizon for Tete? K: Jax and I are currently writing an EP, which were trying to have done by the end of summer. We're hyperfocused on writing and producing that right now, so shows are kind of on the backburner. Hoping to make some cool music videos too before summer's over and then we want to go on tour.

Who are some of your favorite bands to headline/tour with? Are there any local bands that you think everyone should know about? J: Joel Jerome, La Witch, FEELS, Cherry Glazzer, The Buttertones, Gateway Drugs, HO9909. We're really lucky to be surrounded by so many amazing bands. Some of my favorite locals include Gothic Tropic, Jessica Tonder, and LA Witch. Outside of LA, what are your favorite cities to play in? K: I'm obsessed with the South, especially Asheville, New Orleans, Beaufort. Actually all over the South. I also love going through New York and seeing all my friends there. You have friends visiting from out of town for one night, where do you take them out to in LA? J: Korean Spa, Taco Zone, Footsies, Elysian Park, a hike to the waterfall in Pasadena, Stories, The Echo and Lolipop Records. Then Silverlake Ramen and to The Echo for a show. Afterwards hit up Brite Spot for some pie, then Pattaya for late night karaoke. We'll hit the Chateau if we want to be fancy or Jax's shed if we want to stay up all night reading moon charts and painting.
---