Sunglasses

Eyeglasses

Sun Clips

Collaborations

Extras

Stories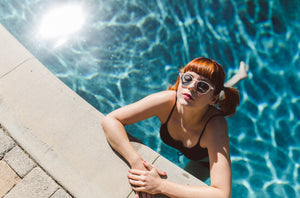 ---
Mixtape No. 21: Only You
Photos: Kate Berry
Words: Emily Draznik
---
Only You
Only You
Sometimes you can't help but feel giddy when you stumble upon a gem that you were blissfully unaware of. This was my case with Rachel Fannan's band, Only You. Her brand of fem-rock seamlessly blends her psych rock roots with sultry powerhouse vocals. There's a quality to her voice that personally transports me back in time, back to the college days that had me basement show hopping through Chicago's underground music scene. Her dreamy rock vibes sound effortless, but are executed by someone with undeniable talent. Only You's under the radar sound is one of the LA music scene's best-kept secrets. Flashbacks aside, we got the chance to chat with Rachel about her background, California and what's on the horizon both for her band and her blossoming career in rock.

How did you get your start? How old were you when you first picked up the guitar for the first time? My uncle had given me an acoustic for my 16th birthday. I was stoked. It was around then that I started practicing and writing little songs in my room. However I got my start in Santa Cruz. I was at a Devendra Banhart concert and he asked the audience if anyone wanted to jump up and play a song. He picked me. You seem to have a lot of things going on at once. What are you currently prioritizing? What's coming up for Only You? My eyes are much bigger than my stomach. I love being busy. Right now I'm trying to keep my focus on songwriting. I'm working with this radical upcoming producer named Harlan Silverman. He's the shit.

You were previously with the SF-based band Sleepy Sun, but are now based here in Southern California. What do you feel are the main differences between living up north versus in Los Angeles? It's way easier to get around in the Bay Area. It makes me sad. If LA had what SF has, as far as public transportation, game over. I'm not talking about just a train you know? But we have the weather, man. We have this heavenly dream weather that just makes everything alright. And it's a little cheaper to live down here. Could you name off some of your favorite live music spots in LA? On the other side of the coin, where is the favorite place that you've ever played? I really like to attend shows at the Palladium and the Greek. The Fonda, even the Roxy. Outside of LA my favorites to play are Le Botanique in Brussels, Liberty Hall in Kansas and the Jackie Gleeson theatre in Miami. Great American Music Hall in SF is killer. There are a lot of beautiful venues out there.
My eyes are much bigger than my stomach.
I love being busy.
---