Sunglasses

Eyeglasses

Sun Clips

Collaborations

Extras

Stories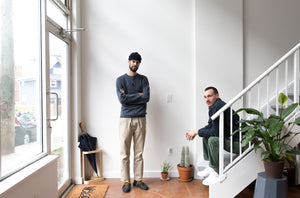 ---
Mixtape No. 19: Inventory Magazine
---
Inventory Magazine
Inventory Magazine
Inventory Magazine was started back in Fall 2009 out of a desire to the tell stories that they didn't see elsewhere in the magazine industry. Now, 5 years later, they're still telling those stories – and it doesn't get old. From Lina Scheynius to Yohji Yamamoto, Inventory's vision of placing future influencers alongside contemporary heavyweights is woven through each issue with equal thoughtfulness and care in selection. Each story is beautifully photographed, containing contemplative portraits and intimate presentations of each individual or company, and their craft. The biannual publication's love for craftsmanship, design, and culture has allowed them to make a name for itself as a magazine which forgoes trendiness but remains dedicated to quality and innovation.
We told the stories we wanted to know.
When asked the inevitable question of the relevancy of print, Owen Parrott and Matthew Klassen – two team members from Inventory's Vancouver office – agree that without a doubt that print will always be relevant. Its tangibility and the irreplaceable sensory experience that comes with it is here to stay. "Disposable tabloids will fade away, along with the more generic titles that regurgitate the same content and never evolve, but niche publications will always have a place," says Owen. With the impeccable aesthetics and design sensibility of Inventory, one thing's for sure: they'll always have a place on our bookshelves.
---