Sunglasses

Eyeglasses

Sun Clips

Collaborations

Extras

Stories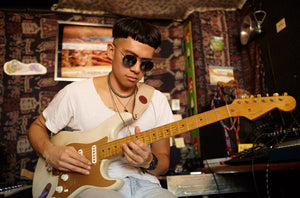 ---
Mixtape No. 31: Harriet Brown
Photos: Jason Barbagelott
Words: Colin Stutz
---
Harriet Brown
Taking a survey of Los Angeles' up and coming musicians, and Harriet Brown has got to be one of the most exciting — if not somewhat eccentric — acts around. His music recalls some of Prince's most fun tunes from the '80s without feeling derivative, mixing references of 90s R&B, funk and, yup, adult contemporary, as well as current production to offer a unique tone that's utterly authentic and his own. In person, Brown (real name Aaron Valenzuela) is nothing but open and accommodating, accessorizing his bowl cut hairstyle and flashy style with a tender modesty that keeps him genuinely engaged in conversation and down to earth. But onstage and on record, he edges more towards the out-of-this-world. As he finishes up his debut album following 2014's New Era EP, we spoke with the Bay Area-transplant about his move to Los Angeles' Koreatown neighborhood and getting things going in the local scene.
What can you tell me about living in Koreatown? What's special or interesting about that neighborhood to you so that you've decided to live there? Koreatown's cool. There are a bunch of random little businesses and hidden pockets to explore; I definitely haven't seen everything that's here. Public transportation here is super accessible. Food is delicious. The crazy signage here is pretty unparalleled, and I think the number of 24-hour restaurants per capita is pretty maxed-out here. I spend a ton of time sitting in my apartment next to the open window, and I can't tell you how many sirens, helicopters, screeching brakes and drunk people I've heard. Keeps things interesting. The ability to walk to pretty much every amenity I need is amazing, especially in this city, so I don't actually drive very much. And walking around, you always find weird stuff – all the different inconspicuous indoor shopping centers are some of my favorite places. They always have really weird interior architecture, and a lot of neon, and there are so many of them. It's all so silly.
You moved to L.A. from Oakland a few years ago, what have been the main differences for you as a creative person? I love the Bay Area — it's where I'm from; the air is fresh, the water is good, I can ride my bike everywhere and say hi to all the people I know on the street. It's got much more of a town vibe to me. However, after moving to LA, all these possibilities and opportunities that I didn't even know were there have been opened up to me in such a short amount of time. Additionally, it being a huge, sprawling city, I find it easier to get more work done. In the Bay Area, it was almost too easy to hang out all the time. I could bike to this BBQ, or go to this show; everything was so accessible. Here in LA, though, it's so easy to stay in my little hole and work. When I wanna get work done, I just don't plan anything, and I can hide in the middle of this large city. I'm never experiencing any kind of "FOMO" down here, because I know that there's always some kind of event, party or show; if I miss this one, there will be another one next week, next month, etc. So I never feel bad about staying home.
Where did you grow up? How long have you been making music? I grew up in a very normal suburb about 40 minutes from SF. There's a shopping mall, a bunch of auto malls, a ghost-downtown area, and a bunch of farmland. And the Jelly Belly Factory. I grew up in church, so I've been singing since I can remember. My parents made me take piano lessons from when I was 4 years old up until I was 12, which is when I started playing guitar. I started making some of my first, really terrible hooks with piano and voice when I was 11, hoping to be the next Usher or K-Ci and JoJo. Then I made some of my first complete songs when I was 12, really bad ones about liking hot girls and being unsure of whether they like me, too. Jazz band in high school was a huge deal for me. It made me think about music differently, and it's what actually made me want to pursue music. My teacher was crazy; he had us playing all these different artists' music — Raymond Scott, Toshiko Akiyoshi, Eric Dolphy, Charles Mingus, to name a few. Every year he somehow raised enough money for us to go to Fantasy Studios in Berkeley and record a jazz album; I think the Counting Crows were recording at the same time as us one year . He even got our jazz band a custom-made, 4-foot tall Tesla Coil for a piece we were making called "Electrical Resonance Symphony", which we performed at the Other Minds Festival in San Francisco. In retrospect, it was a little campy, but it felt amazing being 16 years old and doing that kinda stuff.
Where did the concept for "Harriet Brown" come from? It honestly didn't really come from anywhere; I don't consider the project to have a specific concept, except to be a creative outlet in which I can be completely myself — maybe more of myself than I feel allowed to be on a daily basis. I had spent post-college playing with various random people, just kinda floating around musically in the Berkeley/Oakland area, when at some point in 2013 I realized how bored and depressed with music I was despite it having always been my passion and what I studied in school. I decided at that point that I wanted to make music solo and that I was tired of the constraints that can come with being in a band. So, Harriet Brown was born, out of a desire to be free. The aesthetic, image, vibe — I can honestly say that it really is just me; the only difference maybe is that, within Harriet Brown, I am as comfortable as I can be.
With Harriet Brown, I can be completely myself — maybe more than I feel allowed to be on a daily basis.
Your live show is totally captivating. You're evoking a lot of passion onstage. What's your key to performing? What have you done to shape that? It's been a learning process, but I'd say my key to performing is having fun, regardless of what the audience or environment is looking like. Sometimes this is very hard and I'm not always successful. But I've realized that, for me, if I'm having fun performing, then usually the crowd will have fun too. If I'm up there worrying about the vibe of the space or what people are thinking, then that might come through, and I can just feel that it's not as captivating of a moment. Of course the other aspect, though I'd say it's a given, is just tons and tons of practice.
Where do you find yourself drawing inspiration from these days? I'm always coming back to R&B and funk, but the past year has had me steeped in a lot of ambient, new age and Balearic music. I've really been listening to a ton of Ishq, lately. My favorite latest discovery is the album Divine Songs by Alice Coltrane released in 1987. I've loved her for a while, but I didn't know anything of her 80s material, and this one is a real gem. She sings a lot more on it and there are a lot more drones. The way she uses electronic instruments is so beautiful, too — she makes them work very well within her spiritual songs. With that said, some of my favorite stuff is where R&B/soul/funk collide with the world of new age and Balearic, which usually ends up being somewhat related to the smooth adult contemporary world. Sade, early Maxwell, PM Dawn, Seal — these artists are good at that. This is something I'd like to hone in on more in the future. On the non-musical side, I've been drawing a lot of inspiration from readings about the cosmos, extraterrestrial theories and encounters, science fiction and various, localized cultural beliefs and practices in different parts of the world. I love the idea of beliefs, and how people will see the things they want. I've also been reading about my own Filipino culture, and the myths and stories that were historically a part of it. Appropriately, going out into nature has been a big influence on me lately – specifically the desert. I feel the most at peace in these barren, yet subsisting environments; they seem like some of the most spiritual and otherworldly places to me. What's something most people don't know about you? I have very sensitive skin.
THE 411 ON HARRIET
Playing live at Club Bahia in Echo Park 3/10/16 with Astronauts, etc. & touring nationwide after that @harrietbrown
---