Sunglasses

Eyeglasses

Sun Clips

Collaborations

Extras

Stories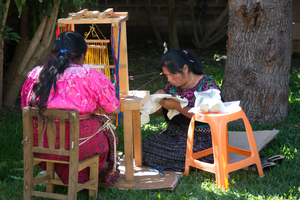 ---
Mayan Hands
Our new cinta straps with non-profit Mayan Hands are beautiful, durable, and charitable. All profits from our partnership will go directly to supporting women's education and economic empowerment programs in rural Guatemala.
---
The origin story of how we came to partner with Mayan hands, a non-profit organization dedicated to creating economic and educational opportunities for Mayan girls and women, started (as many things do these days) with a simple search on the internet.
Earlier this year, we were on a tireless hunt for eyewear straps that would highlight and complement our frames. We wanted something colorful and super durable that had a natural, organic feel. We weren't even entirely sure such a thing existed, but once we saw the exquisite, handmade cinta straps from Mayan Hands we knew we had found our perfect partner.
A cinta is a traditional Mayan accessory usually decorated with whimsical motifs based around nature. Each cinta strap is handmade by an expert weaver from one of Mayan Hands' 14 women-led cooperatives across different areas of the Guatemalan highlands.
We won't sugarcoat that many of these women face incredible economic, social, and environmental struggles due to the lack of opportunities in their rural communities. Many are forced to leave their families to look for work in larger cities.
This is where Mayan Hands comes in. Rather than abandon their way of life, Mayan Hands helps these women make it more sustainable by connecting their incredible goods to markets willing to pay a fair rate. Through these strategic business channels and fair trade practices, these incredibly gifted weavers and textile makers have the opportunity to earn a consistent income, support their families, and enjoy the protections that come with being a part of a larger movement. Though many of the women are illiterate because they were unable to attend school when they were girls, through a Mayan Hands scholarship program, their daughters are now enrolled in school and some have even obtained advanced degrees.
The Mayan Hands cinta collection features three colorways: denim (blues), terracotta (earthtones), and "Syracuse" (red and oranges). Each cinta strap features a one of a kind pattern and is hand woven from 100% cotton. To help hold the strap in place, they come fitted with a pair of silicon O rings that can be adjusted to hold thick or thin eyeglass or sunglass frames.
All profits from our partnership with Mayan Hands will go directly to supporting women's education and economic empowerment programs. They say that to be generous with one's art is to live a rich life. We hope you feel inspired to support these incredible artists and their path towards more freedom and future opportunities.

SHOP: Cinta Eyewear Strap
---