Sunglasses

Eyeglasses

Sun Clips

Collaborations

Extras

Stories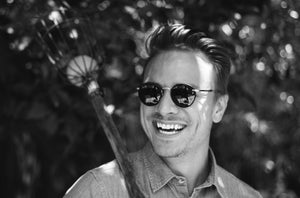 ---
Matt Cutshall
Photos: Mike Selsky
Words: Emily Draznik
---
Traversing the Oregon Trail of the Digital Frontier:
Six Seconds of Fame with Cutshall
While simplistic in nature, Vine fame might be the most convoluted route to stardom. Vine has become so much more than an endless stream of video loops, even though it's just an endless stream of video loops, video loops. Vine users and their digital marketing teams have tapped into a newly discovered audience that was always there in the first place. One Viner in particular knows his demographic, Matt Cutshall. His followers range in age from 18 to 35, spanning millennials, MILFs, and smartphone users who can still remember the good ole days of phone-phones.

On Vine, Cutshall is his own producer, writer, and director. With his "digital marketing team," really just his childhood friend Fernando from Portland, he creates custom branded content for big name companies like Verizon and Marriott as well as blockbuster films like Tomorrowland and Godzilla. "I personally like having a task to make creative content for a big brand. They say, 'Here's a product. Here's a hashtag...Make this funny.' That makes me feel good."
Here's a product.
Here's a hashtag.
Make this funny.
It's a way of working that most filmmakers only dream of. To put this in perspective, Matt gets to choose exactly who he works for and make it exactly how he wants. "If someone's being really picky and wants me to shoot something in a way that I don't want to, I just don't do it. I do what I believe in, but I do know a lot of people that just create for checks." This speaks to the power of having an army of 1.1 million followers standing behind you.

Cutshall is nine years an Angeleno. Like most LA transplants, he got his start working at The Grove. He then moved on to waiting tables at a high-profile Hollywood hangout, and somewhere in between he was the front man of a post-punk boy band. Along this traditional path to "making it in LA" Cutshall got his first taste of stardom by grabbing hold of Vine, an untraditional platform. Since Vine's launch in 2012, its community has exploded and turned Los Angeles into a digital creative content machine. Within the past year, more and more "Viners" have moved out to the Wild West of social media, settling in an upscale apartment complex on Vine Street in Hollywood. I am not making this up. Beauty vloggers, fashion bloggers, YouTubers, and social media stars alike have become a new force in the entertainment world. "I think that the digital world is taking over everything. Digital talent are making more than most base actors," Cutshall said. He has also witnessed this influx of talent firsthand. "The LA Vine community really exploded less than a year ago. And it all started when brands started dumping all of their marketing dollars into digital."

On the surface, Vine taps into a smorgasbord of slapstick humor, obscure punchlines, and some of the strangest things on the Internet. In actuality, there's an intricate system of calculated branding delivered by young, fresh talent. Unlike acting, Vine has become a career that pays the bills. But it's not that simple. The Internet can be fickle with fame; it's not easy to manufacture a video that goes viral. "The things like Alex from Target that go viral, they're already over. He may have thought that he would have a big career, but social media moves fast." It is yet to be seen if this change in the entertainment industry will have a lasting impact. MySpace, laser discs, and beepers are all trends in tech that had their 15 minutes of fame. Within the next ten years, we might see the death of cable TV, home phone lines, and movies shot on film. But, when the grandchildren of Generation XYZ are plugged into a physical manifestation of The Matrix, we can tell them that back in our day you only needed 6.6 seconds to become a star.
---