Sunglasses

Eyeglasses

Sun Clips

Collaborations

Extras

Stories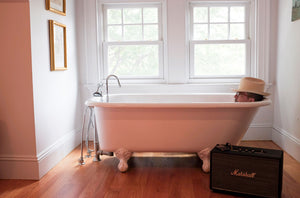 ---
Mark McNairy
Photos: Lee Clower
Words: Olivia Purnell
---
FASHION IS FULL OF LEGENDARY ASSHOLES
Even the devil herself wears Prada. But nobody embraces assholery like Mark McNairy. The designer behind the eponymous Mark McNairy New Amsterdam, the current creative director of Woolrich Woolen Mills, and the undisputed master of collaboration (he's worked with everyone from Adidas to Pharrell) has a rep that rivals that of Ms. Wintour. But unlike Anna, he wears the moniker McNasty proudly. On the low though, underneath the hard camo-candy shell, there's a nougaty secret: Mr. McNasty is actually pretty charming. He laughs off my questions about his infamous nickname saying "That's just a look . . . Usually." It's a good look. His tough edge and no bullshit personality jibe perfectly with his New Amsterdam line. Who better to make the flawless floral snapback with a middle finger cameo embroidered on the front panel? Who else is going to emboss "Fuck You" on the leather soles of otherwise pristine brogues?

McNairy twists menswear classics as he sees fit. Irreverence is his thing. Camouflage might be his favorite tool. He's made camo anoraks, overalls, bucks, and bucket hats. It's been emblazoned with daisies and rubber ducks. Does he have a camo car? "Camo is appropriate anytime," he says "I would wear a pair of camo shorts with a navy blazer to a wedding, but going to court in camo is probably not a good idea. Unless you want to be excused from jury duty." His prints all have a sense of wit. The camo simultaneously references military uniform and flower-child co-optation, influences that carry over into his latest collection.
Who better to make the flawless floral snapback with a middle finger on the front panel?
"I'm obsessed with Vietnam," McNairy says when questioned about bucket-list destinations. "I guess because the war was going on when I was a kid. This whole current collection is about R&R, what the soldiers did on weekends or when they had R&R to get away." The teaser images from the SS15 – including an updated safari suit, matchy striped short sets, plaid on plaid – all feel evocative of a GI's too-brief holiday. There's a sense of fuck-it-all adventure but also a sense of uniform. The uniform concept is one McNairy returns to again and again.

"I try to wear the same thing every day," he says. He's been wearing his khaki chinos and oxford shirts – based on the vintage pairs and thrifted Brooks Brothers button downs he bought in high school – forever. Those pieces are the backbone of most of his collections. Every year he makes the uniform new. After McNairy admits that he's a nice guy, he warns, "If you ask me what inspires me, then it might turn into a different scenario." Okay, homie. He laughs, and just like that McNasty is gone again.
---