Sunglasses

Eyeglasses

Sun Clips

Collaborations

Extras

Stories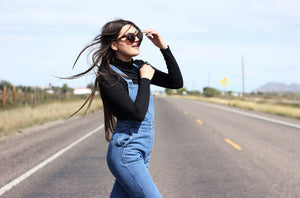 ---
Marfa Magic
Photos + Words: Lindsey Lee
---
When I arrive in Marfa, Texas, it seems no different from arriving in any other town with less than 2000 people; perhaps the first indicator of the mysterious magic this town offers visitors. I had heard that artists, celebrities, and even movie sets had been drawn to the Trans-Pecos. It's easy to understand why — all you have to do is pull to the side of the highway to view monumental concrete installations by Donald Judd, the darling of the Marfa art scene.

Losing light around 6:30pm, it's time to find a place to lay my head for the night. I had seen photos of El Cosmico — known for its teepees, brightly-colored Airstream trailers, and geodesic Yurts — but the photos hadn't prepared me for the real life experience. The 21-acre nomadic hotel is reminiscent of childhood camping, but paired with evening adult fun like karaoke of Taylor Swift's 'Shake it Off' performed by grown men.

It was the perfect weather for stargazing, but if you're looking to connect with space on a deeper level, the Marfa Mystery Lights — 15 miles outside of Marfa — south of US Route 67 are as much paranormal as they are mind blowing. It took fewer than 5 minutes to start spotting the circling neon lights in the distance. My mind tells me it's not possible, there must be someone playing a joke on Texans, but the truth is there's nothing but desert between the observatory and the Texas border, and the lights have been seen since 1957. I return to my yurt at El Cosmico, and dream of the Marfa UFOs.
---