Sunglasses

Eyeglasses

Sun Clips

Collaborations

Extras

Stories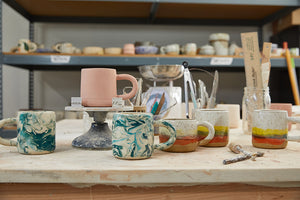 ---
Lucy Michel
LA-based ceramicist, Lucy Michel, on her journey into ceramics and where she finds inspiration.
Words: Denise Shon
Photos: Joshua Spencer
---
We've partnered with LA-based ceramicist and California native, Lucy Michel, to create exclusive handmade ceramic mugs, inspired by two of our favorite things: ocean waves and summertime sunsets. With a shared enthusiasm for our hometown and a California Modern aesthetic, Lucy was the perfect partner for achieving those relaxed west coast vibes in our ceramic mugs. Inviting us into her studio, she lets us in on her creative process, her journey into ceramics, and her favorite spots for catching a sunset.
How long have you been working with ceramics? How did you get started?
I've been working with ceramics for close to 10 years. For most of my life I thought that I would be a photographer.  It's what I majored in during college and grew up with a darkroom in my house that my Dad built me.  When the medium became more digital I lost my love for it. I had a craving to get back to an art form that was more analog and that's when I tried pottery. It became somewhat of a practice for me, I would do it every day and slow down. Then I became totally addicted and realized it was the only thing I ever wanted to do. So I hustled and started my business while having side jobs, the best being at an amazing shop called Midland that really supported and championed me and my work.
What made you want to work with GLCO?
Well first things first, I'm a fan. A few years ago I weaseled my way into being a vendor at one of the epic GLCO sample sales just so I could have first pick of the glasses lol. So when this opportunity presented itself I obviously jumped all over it. During this time of separation and distance it felt really fun to be collaborative.
Where do you draw your inspiration from?
Truly all over. The California landscape, driving up North, vintage ceramics from thrifting and flea markets, books (currently reading Little Weirds by Jenny Slate), music (currently listening to Phoebe Bridgers), travel (I hope to get back to that one). I remember when I first started making mugs I was deep in my Joan Didion phase, reading everything she'd ever written and thinking "I wonder what kind of mug Joan would wanna drink from?" and I designed with that in mind.
Which materials do you use and how do you source them?
I use different stoneware clay and glazes. Fun fact, clay is regional. I use Californian clay that I source through a company called Laguna Clay. I usually keep my glazing pretty simple, because I love the earthiness of the clay. Although during quarantine I took a virtual glaze workshop through a local studio called Still Life Ceramics and got a basic crash course on creating your own glazes. It's full on chemistry and very cool. I'm looking forward to expanding that and making some bespoke glazes.
What was the process for creating our collaborative mugs?
The process was super natural and easy. We wanted to create pieces that were fun and felt like the west coast.
How do you take your coffee in the morning?
Every morning I have a coffee with almond milk in a Lucy Michel mug :) Usually next to my 16-month-old son Levi who's having his bottle. After we had our son, my husband and I started setting up our coffee machine the night before so it's ready in the morning, and I seriously can't recommend that enough. It's a game-changer.
Favorite spot in LA to catch a sunset?
I grew up in Santa Monica so one of my favorite spots is the bluffs, Santa Monica or Palisades. That view is home.
SHOP THIS STORY
---