Sunglasses

Eyeglasses

Sun Clips

Collaborations

Extras

Stories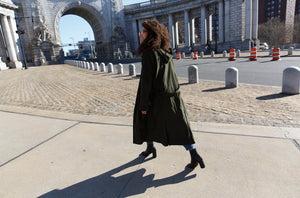 ---
Lower East Side
Photos: Jacob Pritchard
Words: Makenzi Koyen
---
It was a blistering cold day and a blanket of gray swept above the city, making an oversized coat mandatory. Despite the harsh winds I set off to explore the Lower East Side – I'm new to the city, you see, so any day off calls for an adventure. The hustle and bustle of the city is exhilarating, a constant ebb and flow through a concrete jungle consisting of people pushing right and left without so much as a glance. The energy is undeniable, the smells questionable.
I exited the M train station and was instantly greeted with a swarm of honking taxis and an overwhelming scent of pizza. I remembered I forgot to eat breakfast so I turned down Delancey in search of melted mozzarella and spicy pepperoni. Before getting too far I was distracted by signs reading 'Lowline Lab' pasted across a seemingly abandoned, graffiti stained building. Looking for any excuse to get out of the cold, I entered through a dark hallway and was amazed to find an indoor garden, the perfect place to escape right there in the middle of the city. This undisclosed oasis is an exhibit designed to demonstrate how the Lowline will eventually grow and sustain plants underground.
Two hours later my mind was filled with knowledge about plant names and history, but my stomach was still empty. Prepping myself for the crisp spring air, I set out for the only plausible option: pizza. Taste buds still watering, I walked around the corner into the nearest pizzeria, with a sign above the counter reading 'CASH ONLY.' I've been to many places in my life, but New York rates first when it comes to cash only establishments. I spent the better part of an hour on a couple slices of pepperoni and people watching – New York is also at top of any list for the most interesting people watching. With everyone constantly on the go, it's hard not to wonder, Who are they, What's their story, Where are they going?
And soon enough I was on my way. I ventured out towards the Williamsburg Bridge and was practically blown across. I grabbed a coconut thai iced tea and continued to explore the Lower East Side, my trench coat billowing behind me. I took a moment to just stop and look around and I realized how cool it is that I live here in this city. Okay it sounds cheesy (no pizza pun intended) but there's something magical about this place. Everything you need is all around you. You can hide away in an underground garden or play racquetball at the park or walk across a bridge to grab a slice of pizza. There are people from all over the world living here, all walking stories just waiting to be heard. It's days like this that make me remember why I moved here and why so many never leave.
---