Sunglasses

Eyeglasses

Sun Clips

Collaborations

Extras

Stories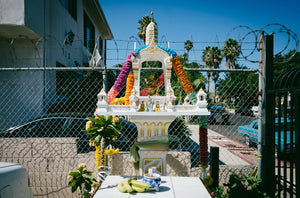 ---
Los Angeles Towns
Photos: Mike Selsky
Words: Patrick Sullivan
---
Little Ethiopia, Thai Town, Little Tokyo, Little Armenia, Koreatown
Here's a visual and literary look into a few of the little towns in this massive city that gives Los Angeles a sense of community unlike anywhere else in the world. It's our home and we are damn proud of it.

Los Angeles has everything rolled up into one city: art, architecture, music, fashion, theater, literature, film, nature, nightlife, and most likely YOU. And, day by day, one couple at a time, the people of the world are becoming closer, becoming one culture. Los Angeles, much like the other great cities across the globe, is international, but originally international; international in its own unique way. No doubt more than one nudnik out there has made some fatuous comments to claim otherwise, but let's be real. Los Angeles is not exclusive, it's inclusive. It's vast, diverse, and filled with opportunity. I mean, you're not likely to walk into Warner Brothers Studios and get a starring role in the next Transformers movie (everyone in LA knows it's a DreamWorks picture), but you sure as hell can rent a studio apartment with a view of a dumpster somewhere. It's a city with everyone, and its immigrant roots extend out through its international influence.
Whether you're Bieber from Canada, or
Serj Tankian from Lebanon,
LA has a spot for you.

Stereotypically, Angeleno manifestations of cultural internationalism have been Latin in nature. The greatest influence that Spain and Mexico left on Los Angeles might just be their culture. Nevertheless people from the farthest corners of the globe have sought out, reached, and molded Los Angeles to include their histories as well. LA is as much black as is it is white, and it's also Mexican, Chinese, Korean, Armenian, and Creole, to name just a few. Don't get me wrong; I am far from claiming that LA is some kind of utopia. Today racial and socioeconomic barriers remain just as prevalent between the people and communities of Los Angeles as they have been in the past. Same same, but different. Yet the ethos of the city thrives.

LA garners success by providing its citizens a venue for vision. Even if many of those visions are seldom realized, some have become real and can be seen in the exploits of numerous ethnic groups that live around the city. Korean immigrants have made such an impact that LA seems Korean by nature. Because the city boasts the largest population of Koreans outside of Korea, it is often referred to in jest as Korea's second largest city. Koreatown is the obvious cultural center, but Koreans and Korean businesses can be found from east to west, north to south. Or how about the El Salvadorans who fled their country's civil war to the Los Angeles neighborhood of Pico-Union in the early 1980's? They sure have made a virulent mark on LA with now over 70,000 MS-13 gang members in the US, Canada, Mexico, and Central America. And conversely there are the 10,000 Armenians who immigrated to Glendale around the same time – so many that Angelenos often wonder why they call it "Little" Armenia. Without these specific communities, for better or worse, Los Angeles would not be the city that it is today. Just as the rich and famous residents project a glamorous image of LA from their Hollywood Hills and Malibu mansions, the more pedestrian sights of ethnic food trucks, two-story apartment buildings, and store front signs in far eastern languages show those living in Los Angeles what their city really has to offer.
The city ranks among
top three in influx of immigrants – the funny part: LA is barely growing.

For decades many different groups have traveled from near and far to migrate to Los Angeles, and today is no exception. LA ranks in the top three US cities, alongside NYC and Miami, with the largest influxes of immigrants. The funny part is that Los Angeles is barely growing. There are nearly as many people leaving Los Angeles as there are newcomers. Only time will tell what the influx of internationals and the flight of locals will mean for the city, but we can be sure that Los Angelenos will continue to maintain their equipoise and create a culture unmistakably their own. Los Angeles is a city that welcomes newcomers because most of the people here are newcomers. Whether you're Justin Bieber from Canada or Serj Tankian from Lebanon, LA has a spot for you. You don't have to be the best. You don't always even have to be that good. Many have found paths, found their clan. You might realize your wildest dreams if you uncover the beauty and promise that lie within the city. But then again, it might just chew you up and spit you out.
---