Sunglasses

Eyeglasses

Sun Clips

Collaborations

Extras

Stories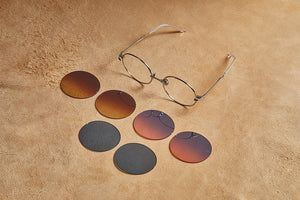 ---
Lens Mount Technology
Inspired by the progressive creative spirit of the late '60s, our 1967 SL and Monterey SL frames both come with a selection of interchangeable lenses — perfect for matching your mood to your outfit or mixing function with artistry.
Words: Elliot Aronow
---
No matter where you stood on the countercultural spectrum, the late 1960s were a mind blowing era for personal style and self expression of all kinds. Looking back, you get the sense that everything was moving at warp speed. New worlds were being created faster than they could be named. As always, fashion, film, and music were leading the charge.
In 1962, an average teen was still dressing more or less like their parents — collared shirt, solid colored slacks, maybe some penny loafers if they were going for the collegiate look. If you had to name an inflection point and a historical moment when everything changed, it was 1967.
Sure, there was Sgt. Pepper and all that summer of love stuff, but there was also Are You Experienced?, "The End" by the Doors, and the Velvet Underground's debut LP with its iconic phallic Andy Warhol cover — not to mention edgy, boundary-smashing films like The Graduate, Bonnie & Clyde, and The Dirty Dozen. Ties, greasers, and cable knit sweaters were out, fringe leather vests, capes, and hats and glasses of all shapes and styles were very in. High art was turning into pop culture and vice versa.
Inspired by the progressive spirit of the late '60s, our 1967 SL and Monterey SL frames feature our new Lens Mount Technology, an interchangeable lens system that comes with a selection of interchangeable lenses. Both are impressive standouts made from rare and precious materials from our handcrafted Mr. Leight collection. The 1967 SL features an oversized frame that pays homage to the psychedelic glam of artists like the Jefferson Airplane and Jimi Hendrix and comes with three distinct nylon lenses: a classic gradient, a solid color, and a gradient mirror lens. Tension coils hidden behind the frame's end piece make it easy to change up your look and move throughout your day with confidence and poise. It's minimal and glamorous in all the right ways.
The Monterey SL is a bit more classic and features a timeless P3-inspired frame. Inspired by the idyllic beachside town of Monterey's rich history of artistic innovation and earthy practicality, the Monterey SL frame comes with one set of sun lenses for enjoying the great outdoors and one set of blue light-blocking lenses for making your screen time much more enjoyable.
If you want to see these frames in action, we invite you to get experienced and check out our instructional video for inspiration. Happy trails!
---