Sunglasses

Eyeglasses

Sun Clips

Collaborations

Extras

Stories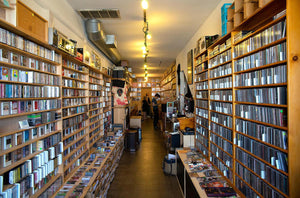 ---
LA Record Stores
Features /May 30, 2018
Words: Dustin Beatty
Collaborator Photos: Dustin Beatty
---


The first time I went to Licorice Pizza, our local record store, I could barely see over the countertop. The clerk stared patiently as I blurted out the first five bars of 'The Ocean' by Led Zeppelin. (If you're not familiar with it, producer Rick Rubin stole the sample for The Beastie Boys' 'She's Crafty'). I'd heard the song on "Get the Led Out", an hour long broadcast on a local terrestrial radio station devoted to singles, deep cuts, rarities and all things Page, Plant, Jones and Bonham. The only issue was the host never named the song I was after. "Oh, that song is on CODA," the clerk said thumbing the racks of tapes behind the register (CDs weren't really a thing at the time, and a cassette was all I could afford on my meager allowance). 'The Ocean' definitely wasn't on CODA.




A month later, same drill, though this time a different clerk, one I'd hoped could place my off-key mouthing of the savage intro. "That song is on Led Zeppelin III," he asserted with optimism. I raced home, popped the tape into my ghetto blaster and anxiously awaited that pummeling guitar between the hisses of each outro. Nothing. This routine must've gone on for an entire year with each tape never delivering what I was after. But I was slowly becoming a massive Led Zeppelin fan. I think the clerks knew what they were doing; they were the harbingers of taste, audio pushers, who knew that a gateway drug would get you hooked. After all, music is the most emotive art form and I wanted my fix. It wasn't until my tape rack was filled with every available Zeppelin album that I found the holy grail—on the flip side nonetheless—the last track with that blistering riff. But at that point I was already addicted. Since then, I've always revered the omniscient record store clerk who can deliver the goods. From rock to post punk, to metal, to hardcore, to techno, to rap, it's their job to have an encyclopedic knowledge of entire catalogs, all the local scene gossip, living life like a comic book nerd in perpetual groupie adolescence. I've got that dude at Licorice Pizza to thank for my Led Zeppelin obsession and a whole lot of others like him for the ebb and flow of my record collection. With vinyl sales up, a burgeoning tape scene and a new golden era of the indie label upon us, we decided it was time to pay a visit to some favorite shops right in our own backyard.



New York's East Village is a perfect place for a record store, especially during the early 90s when CBGBs was still going strong and the place still had a pulse. Dan Cook planted a flag there for the first location of Gimme Gimme, named for his insatiable vinyl obsession. After fully maturing into an eighteen-year tenure, Cook relocated to Highland Park where the newest location sits in the midst of bustling gentrification on North Figueroa. Used punk, indie, new wave, psych, country, rock and jazz fill the racks but you can also score a signed copy of Kendrick Lamar's DAMN with a t-shirt.

Do you know who the hell the Dinky Pink, Isotrap, Wilding, Flying Hair or Lewis and Klarq are? Me neither, but the clerks here are eager to turn you on to some new shit, especially on tape, which makes up about half of Jacknife's inventory. Yes, tapes are a thing, big time, especially certain labels and artists who these days release straight to that format. Conveniently, Jacknife boasts the biggest selection on the Eastside. Don't have a cassette player? They also stock a selection of drool-worthy vintage audio equipment like receivers, turntables and players. This is the shop from my youth, a railroad-style store spanning all genres, budgets, tastes and moods. Waste a day here or wander around Atwater Village, home to one of LA's best art bookstores.

Vacation Vinyl owner, Mark Thompson says he wouldn't be a good proprietor if he kept all his good records for himself; someone once gave him some advice that a solid record collection should be a "rotating hundred pieces" because no one human can consume that much. If your obsession is punk, metal, black metal, thrash, grindcore or any other related genre then you're in luck because Vacation carries only the hardest shit. Need to brush up on your No Wave or Straight Edge history? Mark, or another staff member, is happy to chop it up with you or share a book on the subject from an extensive genre-spanning collection. "Vacation is a community store, a representation of people who run it and returning customers along with an extension of a variety of well-crafted identities," adds Mark.



It's fairly common for a lot of record stores to start with a personal collection and cousins Oren Pius and Eitan Kalma decided to put theirs under one roof in 2016. This encouraged the local LA community to buy, sell and trade their own shelf-bending stash of old 45s, EPs and LPs. Located in the former Blue Bag Records location, Cosmic leans heavily on the 50s, 60s and 70s—golden eras of rock 'n' roll, jazz and pop—so expect to find an array of classics on multiple formats. They definitely boast the coziest listening station, inviting you to ogle the buttery operations of vintage audio equipment like their Marantz receiver.

During all this research on LA record stores, lyrics from James Murphy and LCD Soundystem's 'Losing My Edge' kept echoing in my mind. "I was there when Captain Beefheart started up his first band. I told him, "Don't do it that way. You'll never make a dime," Murphy spouts as part of a litany of seemingly innocuous music knowledge. Truth is, music history is really interesting and Rockaway, one of LA's oldest shops, is a like museum erected in honor of dusty sleeves and coveted memorabilia. This tribe of salty dogs—the staff are actually really nice—embody the spirit of the roadie and can probably fact check whether or not Stevie Nicks really did ask her manager for bootie bumps. This is the spot the other record shops call when they can't price a rare Beatles Japanese import or if you want to buy an authentic T Rex tour poster for the metal guru in your life.



If you click Permanent's 'About' on Facebook all you'll find are the words "You can't put your arms around a MP3!" They understand that the things you own say a lot about who you are and you can certainly tell a lot about someone from their record collection. Permanent is the only record store to have two LA locations, in Highland Park and Echo Park, where they took over the old Origami Vinyl space and carried on the tradition of stocking highly coveted buzz bands with a treasure trove of new discoveries. It's all killer and no filler so expect to come with deep pockets, especially for releases under their namesake label. If you're burned out on your short obsession with bands featuring "Wolf" in their name, Permanent is also happy to buy back your stash as long as it's in top condition.



More clubhouse than record store, Gnar Tapes is straight out of an 80s movie. During our visit, its proprietor, Ricky Gage of the band White Fang was sporting a mullet, a black tank top, sweat shorts and white socks while a Star Wars X-Wing Fighter hung from the ceiling. He's hardly in character; instead the living embodiment of the Gnar brand that originally started as Gnar Burger created with Burger Records back in 2015. The two have since moved on managing their own respective business, with Gnar Tapes operating autonomously as a label, shop and recording studio. The Cypress Park location is a mecca for DIY culture and while the label doesn't sign anyone, artists are attracted to Gnar because of its reputation. YACHT, Fat Tony, Pinky, Marriage Records and other cult acts buddy up to the ethos of Gnar. If you stop by, dig the dollar bins, cheap tapes and if you're feeling spendy cop a rare skate deck from Kyle Field of Little Wings.



Like a lot of LA's brick and mortar record stores, Mono started as a way to share a personal collection. Owner John Roller met an old Island Records exec who wanted to offload his stash so the two opened up the first location in Echo Park. Roller sort of fell into the role of being a record storeowner, which was originally a means to start another band. Now in its second location, Mono is deep east in Glendale but it's worth the trek if only to time travel through punk and metal history via Roller's personal flier collection plastered on the walls. What's in the bins? "We don't discriminate; there's something for everyone here," Roller adds.



"1, 2, 3, 4, who's punk; what's the score?!" If you sang these lyrics from Jawbreaker's song to Jean-Luc Gaudry at Headline Records he's certainly earned the right to raise his hand. In fact, Yelp just named it the 'Number One Record Store in the US,' though he is a little skeptical as to how they know that, which suits his vibe. Not many shops can claim such a strong identity but akin the ethos of the artists they carry, Headline bleeds for Hardcore, Punk and Straight Edge. The walls are alive with the t-shirts of every band who has skin in the game and the inventory rivals that of Discogs.com. Headline embodies a true punk ideology so if that's your thing stomp on in to their Melrose location.

California's Central Valley is our equivalent of a flyover state. There isn't much around aside from farmland and the infamous Cowshwitz slaughterhouses; however, if you were a drive-by punk fan who detoured through Bakersfield in the early 2000s you'd certainly know the Muñoz Gym. Ronald, who originally started Going Underground, used his grandfather's old boxing gym as a sweaty DIY punk venue after the gloves came off. It was the nucleus of the scene that later birthed the record store a few years later. The new LA destination location at the eastern end of Melrose is an extension of that evolution, with a genre spanning collection that includes Leonard Cohen, rare film scores, one-hundred dollar Pink Floyd records, drool-worthy psych gems from bands like Andromeda and Kaleidescope and of course a selection of jazz, soul, 80s and punk.



Brand spankin' new on the eastern edge of Echo Park, Sick City sits between Button Mash and one of the oddest pet shops in LA. When I walked in, co-owner Brian Flores was blasting a live Oh Sees show on the big screen that immediately ignited a conversation about their latest record. Flores told me that a lot of what's in the shop was originally housed in Frankie's Barber Shop so Sick City not only accommodated those growing pains but also allowed the namesake label to expand. Their inventory is a reflection of personal tastes from Flores, Jesse Lopez and a third partner, Tone Miller. "We carry stuff that we can recommend," adds Flores. Artist Shepard Fairey recently stopped by, as his Studio Number One is just a block away. If you're into what he's after then expect to find vinyl from The Germs, DEVO, Bauhaus, Nine Inch Nails, Cocteau Twins along with one of the most extensive collection of vintage band tees in East LA.


---