Sunglasses

Eyeglasses

Sun Clips

Collaborations

Extras

Stories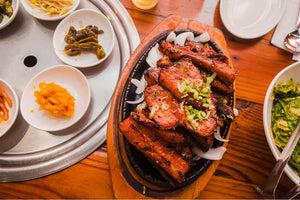 ---
Koreatown
WORDS & PHOTOS: Oriana Koren
---

Angelenos talk mad shit about Koreatown. Don't believe me? Just say the word "Koreatown" to an Angeleno and you will be met with the ubiquitous reply, "No Parking!!!" But if you're a carless transplant like me, Koreatown is a walker's paradise. There isn't a block in the neighborhood that isn't bejeweled with a restaurant or bar or donut joint or bakery, and that's excluding the strip malls graciously dotted all over the neighborhood.



Koreatown is one of the most visually stimulating neighborhoods in Los Angeles: art deco buildings as far as your eye leads you, brick apartment buildings with fire escapes that bring to mind New York, gorgeously hand painted signs in Korean for spas and late night gambling spots. Not to mention people of all stripes, but particularly, the immaculately dressed youngins dipping into shaved ice spots or headed to a movie at the Koreatown Plaza. I thought I'd get a little crazy and take on the neighborhood by foot. Of course I did so on one of the hottest days of the summer (I cheated and took a few Lyfts) so I had to see about getting some bingsoo, or Korean flaked ice desserts. Homibing is the spot for bingsoo, particularly their mango bingsoo, which features a whole mango perfectly ripe and sweet, adorning a bed of delicately flaked ice and generously drizzled in mango syrup with a side of mini mochi. Homibing was packed full of families, with lots of sugared up tots happily nibbling on mochi and syrup drenched ice. Everyone was beating the heat with bingsoo large enough for a family of four or to be consumed slowly, solo, as I did while reading a book and scrolling through my insta feed.




The bingsoo cooled me down enough to trek over near the Wilshire/Western Metro stop. This is when I mention how incredibly accessible Koreatown is via Metro. Don't get me wrong, the LA transit system is, well, a work in progress that pales in comparison to New York or Chicago's. However, there is an entire line (the purple) dedicated to stops throughout the vastness of Koreatown. Wilshire/Western is the epicenter, a good place to start your on-foot Ktown exploration. Wilshire/Western provides access to the Koreatown Plaza, an open air shopping complex with a movie theater where you can watch the latest in Korean cinema; an H-Mart for all your Korean (and Japanese) grocery shopping needs; a bookstore, multiple bakeries and coffeehouses and even a Korean beauty shop. Across the street you'll see The Wiltern, an, a massive emerald tiled Art Deco theater built in 1930.




Koreatown is home to quite a few of Los Angeles' cultural monuments, like the Wilshire Boulevard Temple and the Chapman Market building. In order to appreciate the massive collection of outstanding architecture in Ktown you have to walk. And the most ideal walking circumstances present themselves after a proper KBBQ or mandu throw down. Ham Ji Park has the most exquisite pork ribs I've had outside of the South. The ribs are bursting with flavor and almost impossibly tender. You take a tiny nibble and the meat just falls away from the bone. Paired with a few Hite tallboys, some kimchi fried rice and the ever revolving selection of banchan (kimchi done a few different ways, some sweet veggie pickles and of course funky fermented bean sprouts), it's the most satisfying group meal you can get in Ktown. It's best to go off hours during the week; Ham Ji Park is notorious for long lines once the evening rolls around. That's when you should be strolling around catching the neighborhood glow at magic hour. If you're looking for a more modest (read: even cheaper and more filling) meal, the mandu at Myung In Dumplings is worth the visit. The steamed buns (jeem bbang), filled with pork and cabbage or red bean, are almost the size of an adult fist. But it's worth pacing yourself through an order of the wang mandu. There are generous helpings of kimchi and daikon pickles, which taste incredible once your teeth sink through the dumpling's fluffy surface. A meal this generous costs under $15 dollars, so it's pretty easy to see why Anthony Bourdain makes a stop whenever he's in town.




Walking Koreatown encourages a sort of exploration of familiar spaces we often take for granted – amazing ajummas, architecture and Angelenos. If that isn't convincing enough, you can always rouse yourself to action with the reward of ribs and dumplings and shaved ice desserts, and the freedom of not being stuck in traffic. So take a walk.


---