Sunglasses

Eyeglasses

Sun Clips

Collaborations

Extras

Stories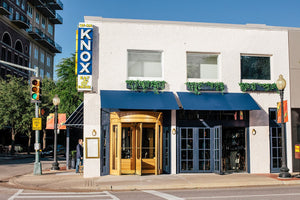 ---
Neighborhood Guide: Knox-Henderson
WORDS: Daisy Chaussee
PHOTOS: Reed Kenney
---
Knox-Henderson


Named for two main roads, Knox and Henderson, that connect the neighborhood over U.S. Highway 75, Knox-Henderson is one of Dallas's most up-and-coming neighborhoods. Even with busy intersections and its proximity to Downtown, Knox-Henderson feels intimate and walkable. A great area for eating and shopping, Knox-Henderson showcases lively restaurants, antique shops, and local boutiques. New neighborhood spots open each month with the promise of even more to do, see, and eat in Knox-Henderson. Here's our guide to keeping with it.



This laidback outpost on the corner of Henderson and McMillan is a mecca for creatives, motorcyclists, dog walkers, and families alike. What appears to be a dollhouse-sized shop opens up to reveal a spacious indoor setting; wooden cabinets and brick walls mix with simple black and white design elements and turquoise stools to create a bright, inviting ambiance. Besides the excellent standbys (like a killer latte), Houndstooth offers experimental and seasonal menus, showing just how versatile coffee can be.

Baby blue bar stools meet weathered wood tables at this indoor/outdoor restaurant across the street from Houndstooth. Lekka, Afrikaans for "delicious," serves American fare with a subtle South African twist, which shines especially in the cocktails. Try the Protea, named for the South African national flower, and enjoy the perfectly pink colors and flavors of an updated cosmopolitan. Popular dishes on the menu include the samosas and spring rolls, which serve as great companions when playing the lifesize Jenga or Connect Four on Lekka's patio.

Bohemian and Texas-obsessed, Gypsy Wagon is a home and apparel boutique for the free-spirited. Owner Carley Seale handpicks every item for the store, striving to provide handmade, sustainable, and local goods that cater to a colorful, carefree state of mind. Every inch of space is filled to the brim with apparel, accessories, home goods, and gifts. Whether you're looking for a cowboy hat, floral dress, fluffy pillow, or birthday card, you can find it here. For some of the best shopping in Dallas, as its mural states, "this must be the place."

Subtle nautical vibes accompany a seafood-focused menu at Gemma, a gem of a restaurant on Henderson Ave. Gemma knows how to pair wine with food, as the restaurant's owners both worked at one of Napa Valley's top dining destinations before opening Gemma. The food is delicious and beautifully prepared, like miniature works of art: oysters, mussels, crab, striped bass, and red snapper all make appearances on the menu, as well as salads, pastas, and seasonal desserts like my favorite fig and frangipane tart. And if you have a late-night craving for oysters, Gemma is at your service.

Branded as a modern day general store for every man, STAG: Provisions for Men proves to be both classic and modern. Showcasing vintage pieces and timeless staples, STAG manages to find the balance between nostalgic and unexpected, while staying true to its Texan and Californian roots. The space's design highlights careful craft and curation with organic wood features and simple clothing displays. The space feels fresh and clean, but also lived-in and inviting.

Stephan Courseau, owner of the popular Le Bilboquet (also a few blocks away on Knox), just opened his latest restaurant, Up On Knox. An American brasserie with California roots and French inspiration, Up On Knox features an oyster bar, specialty cocktails, caviar, charcuterie, and a wood fired grill. An in-house pastry chef will be arriving soon to serve the breakfast and brunch crowds. The restaurant features herringbone hardwood floors with leather stools, high ceilings, and a vintage revolving door welcoming diners in.

On the border of the Knox-Henderson and Highland Park neighborhoods sits this old-fashioned soda fountain shop, open since 1912. For 100+ years, Highland Park Soda Fountain has been serving milkshakes, malts, grilled cheese sandwiches, hot dogs, and other diner favorites. Spinning bar stools line the counter, and old newspapers frame the walls. Shakes are still served in frosty sky-high glasses and prove to be the most popular way to beat the heat of Dallas.
---