Sunglasses

Eyeglasses

Sun Clips

Collaborations

Extras

Stories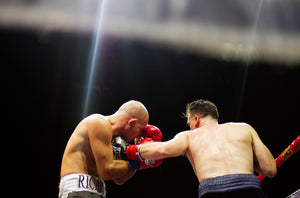 ---
Kid Yamaka
Photos: Ian Flanigan
Location: Los Angeles, California
TRAINER: Freddy Roach, Wild Card Gym. RECORD: 5 Wins, 1 Loss, 1 Draw. DIVISION: Welterweight.
---
Garrett Talks with Pugilist Zachary Wohlman
PART ONE
YOU KNOW WHEN a race horse breaks its ankle and they take it out back and shoot it? After starting his professional career undefeated in his first four fights, this is how Zachary Wohlman describes the feeling of his first loss as a professional boxer. To put that into perspective, Wohlman is a man who at 17 was in handcuffs sitting in the back of a police car with his father next to him, both charged with illegal drug trafficking. It's Friday the 13th, and I've just sat down at the Chateau Marmont for a conversation with Wohlman, also known as "Kid Yamaka." In a few hours the 25-year-old 5'8 150 pound professional boxer from Agoura Hills is about to embark on what he describes as his first real Yom Kippur, the day of atonement for practicing Jews. Our conversation gets real deep real fast. He is visibly anxious, his mind full of thoughts. After all, he is about to embark on a spiritual and mental journey during a 24-hour period of fasting and silence. "I'm ready to get honest about my past. I have a lot of apologizing to do." For the first time in his life he can clearly see that he has much to be grateful for. Hell, he can't even believe he's at a place like Chateau Marmont, much less doing an interview about himself. "I drove here in my Mercedes, its crazy," Wohlman says. He makes sure to note that cars aren't important to him; it's just that he can't believe where his life has come.
For the first time in his life Zachary can clearly see that he has much to be grateful for.
There's no way around it, boxing has saved his life. One of the first questions I asked him is what he'd be doing if he wasn't boxing. Without a moment's hesitation he says, "I'd be in jail." Wohlman has abused drugs, alcohol, any many other things since before he can remember. In fact he literally can't remember anything before the age of 14. He refers to that void as god's gift to him. Wohlman's earliest memories date back to when his mom sent him off to boarding school in Texas because she couldn't keep his anger under control. It was in Texas that he was first introduced to organized boxing, often taking fights across the border in Mexico. At 17, Wohlman returned to California to find an exciting yet ultimately devastating lifestyle of breaking the law with his father. A lifestyle which ended in prison time for his father and juvenile hall for him. "I remember sitting in the back of the police car, and my dad stepped on my foot, looked at me in the eyes and said, 'I'm sorry.' I thought that was the last time I'd ever see him." However that wasn't the case. Wohlman had returned to Los Angeles from a hard knock life of working on oil rigs in Oakland when he received a call from his father to come visit him at a Judaism based halfway house. To his surprise, his father had been clean and sober from the day he entered prison until that very day. The rest of their relationship is history. "My dad is my best friend," says Wohlman. In fact the look on his father's face that day was so powerful that Zachary himself went clean and sober for five years from that point on and started taking his passion for boxing seriously.
PART TWO
THE NEXT STAGE of his life would mark the beginning of his career, which you can read about in multiple publications and anywhere online. Wohlman caught the attention of one of the world's best trainers, Freddie Roach, who he's been working with for going on seven years now. Many would say that the most valuable thing that Wohlman has going for him is a combination of his determination and his absolute respect for the sport. He is a student of the game and is willing to do whatever is required of him to win a fight. However, in December of 2012, the reality of his weakness for his vices would come back to haunt him yet again. Wohlman started his professional career in December of 2011 winning his first four fights in overwhelmingly dominating performances. But in December of 2012, the success and the attention had gotten to his head. After spending a month in New York cozying up with women, cocaine, and alcohol, he demanded his team schedule him a fight. "I had not lost a single round in my first year of professional boxing. I felt unbeatable." To the dismay of his team, Wohlman took a fight that he was not ready for with ten days of preparation. "I guess I just don't know how to party a little bit. Once I go in, I don't come out for weeks." Now nine months removed from the lowest point in his life and two more wins under his belt, Wohlman says he is committed to his sport and most importantly himself. "I just want to be present," Wohlman says. A man who has lived a life that most would have given up on a decade ago, Wolhman is just now able to put life into perspective. "You know there's something wrong with anybody that gets hit in the head for a living," Wohlman says it all with one humble sentence. Wohlman is without a doubt an old soul, but a troubled soul that needs some repair. However, for the first time in his life, he is not ashamed of that. He just wants to be honest with himself. Wohlman wants to keep his feet on the ground, both literally and figuratively. He knows which is more important, as you can't have one without the other.
---