Sunglasses

Eyeglasses

Sun Clips

Collaborations

Extras

Stories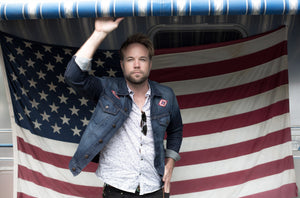 ---
---
It's not unheard of to sell everything and pack your bags, leave home, and pursue your dreams out here in Los Angeles. That was Kai Brown's story back in 2007. But this Aussie-born musician, who's since gone on to work with Grammy artists and release three of his own albums, is here for more than just LA's venerated halls of fame. Instead, he opts for a more paired-down kind of living. He makes his home in a vintage Airstream, practices yoga, surfs, and makes it a point to escape for overnight camping trips in Ojai and Joshua Tree.


With moments like these, it's no surprise that Brown crafts music that is warm, organic, and inviting all at once. Rather than recording in a traditional studio, he records in environments such as an old church alongside the Santa Monica Mountains for its more atmospheric sound and natural reverb. His latest release, Lala Vol. 2, was produced to feel like an "outdoor in a massive landscape setting." Brown will be bringing the idea into actuality for his upcoming outdoor concert series: the summer-long set of free acoustic pop-up shows will kick off Monday, April 27th at 6pm at the Topanga lookout in the Santa Monica Mountains.
Read on for his thoughts on rock records from the 60's, and where to chow down after a ride in Angoura Hills.

What about being in LA inspires you?
Although I grew up in Australia, the music I was first exposed to was my parents record collection, which was mostly 60's and 70's rock, blues, and folk from Los Angeles. Neil Young, The Doors, Buffalo Springfield were also playing. When I started to learn more about the history of where and how those records were written and recorded, it lead me to Laurel Canyon, Topanga Canyon and the Venice music scene. I felt pretty early on Venice could be a great base for the music I wanted to create and lifestyle I wanted to live.
How did you end up making an Airstream in Venice your home?
Well I've always loved American made vintage cars and motorcycles. So when the opportunity came up to live in the airstream, I thought I'd give it a few months to see if I liked it, and that was four years ago! I love the fact that I'm able to keep a simple life and not collect too much stuff. Everything in the Airstream has its place.
Any favorite spots?
I'm a big fan of Ojai or Joshua Tree for an overnight camping trip. But one of my favorite things to do in LA to clear my mind is to ride motorcycles with my mates to The Old Place in Agoura Hills. From Venice, it's one of the most amazing rides in America. And at the end they have the best pancakes I've ever tasted!
Nature seems to be a big factor in your music. Could you share more about that?
Yeah, nature is a huge part of my inspiration, mostly because I feel its beauty is so limitless. I think it's so important in this digital age to take time out and come back to that source. I'm so drawn to surfing, yoga and motorcycle riding because it takes me away from anything that's not in my present reality. A lot of my song ideas also come from doing these things as I feel like I can really relax and just let the songs flow without being interrupted.

What lead you to do summer concerts in nature?

It was just an idea to give people a reason to get off their laptops and cell phones and take an adventure, get into nature, and watch a sunset. I'm very much into this whole "digital detox" movement that's going on right now.

Follow along and find the next concert pop-up on Instagram @kaibrown.
---