Sunglasses

Eyeglasses

Sun Clips

Collaborations

Extras

Stories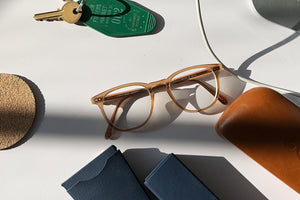 ---
JJJJound
Features /January 22, 2019
Words: Donna Suh
Photos: Justin Saunders, JJJJound
---
If you're a red-blooded human with eyes and internet access, chances are you've seen the work of JJJJound at one point or another. What began in 2008 as an exploratory story board for personal style transformed the idea of a blog from a dumping ground for text-heavy musings to an image-only gallery curated thoughtfully by color, a radically new concept at the time (and since blown up and destroyed by Tumblr, Instagram, Pinterest, and so on). As such, Justin Saunders, the multidisciplinary designer, artist, and entrepreneur behind JJJJound, was arguably the internet's first notable conceptual creative whose singular aesthetic quickly gained widespread attention. With a growing global audience of iconic brands and innovators, Justin's left his indelible mark on the aesthetic preferences of a whole generation of design-conscious, style-forward men and women — whether they're aware of it or not. Minimal, practical, utilitarian, and unexpected. These are all apt descriptors for the images, artworks, and products Justin curates, produces, designs, and sells through JJJJound, now a full-fledged studio based in Montreal. His killer instinct for color, balance, and — most of all — interesting details has made him a natural collaborator for companies like Vans, New Balance, and now GLCO. We had the pleasure to work with Justin on a super limited-edition colorway of our Brooks 47 optical frames, a project perfectly suited for two contemporary brands that carry a shared nostalgia for well-made physical goods IRL. We talked to him about his first foray into eyewear, how that fits into the larger JJJJound scheme of things, and planting surprising details in every product he creates.

How does living in Montreal affect your design aesthetic and your approach to your work? It's definitely slow paced, which probably affects our minimal design tendencies and allows for a quiet, thought-out methodology. In what ways was it fun or challenging to collaborate with a very California brand such as Garrett Leight? Luckily all the collaborations we work on are with brands with amazing track records. I've been wearing the Brooks model from GL for years. The team at GL was super easy to work with and super structured. It was amazing to get on a phone call, talk about design for a half hour and be able to align immediately on the right thing to launch. In our quest to un-complicate things, it's always great when things align perfectly.

You've mentioned your obsession with utilitarian goods and your appreciation for how things are produced. How was developing eyewear more or less challenging than other types of products you've designed? We didn't dive as deeply into design and the manufacturing process on this collaboration. Although the idea to reinvent the wheel is in our DNA, we force ourselves to not change what's already perfectly formatted. For this collaboration, we focused our energy on the color - aiming to create an item that would blend in tastefully on everyone who wants to wear them full-time. What's the perfect frame color for eyewear?
Is there a particular reason you chose to design optical glasses vs sunglasses? People's relationship with opticals is very different than with sunglasses. Sunglasses feel more like an accessory, opticals feel more like a uniform. We loved the idea of offering an item that would become part of someone's uniform - an item you can even wear at night.

Who were you envisioning is the wearer of your limited edition Garrett Leight frames? What did the mood board for this project look like? Our audience is a mix of creative enthusiasts, designers, critics, artists…Hopefully they connect and make these a part of their daily fit. Although we don't update the moodboard JJJJound.com very often, it remains our latest set of inspiring images for what we drive our concepts toward, . You once said, "The color of the receipt is as important to me as the product itself," (from GQ) to explain how you value the user experience beyond product. How does your Garrett Leight collaboration, as well as each different product and product category you explore, help you build a full JJJJound user experience? JJJJound is a never-ending conversation of what comfortable feels and looks like. The result of these conversations are products and experiences that feel physically comfortable and mentally comfortable to us. I've always personally looked at the original JJJJound Moodboard/Annex as a therapeutic hobby, so when I decided to take it a step further into products - it needed to be an organic slow-paced growth that serves the same purpose the website had. We are obsessed with all the little nuances and details that come with projects, like in this case, the small scripted JJJJound printed inside the frame.

You cultivate a minimalist, mature aesthetic sensibility (neutral color palettes, a wardrobe of grownup basics), yet your real passions are carryovers from your youth (sneakers, comic strips, Calvin and Hobbes, skateboarding). Do you try to inject a little bit of that nostalgia into your work? We've tried to keep JJJJound as mature as we can with releases, but we plan to launch a "Fun" section with items that feel more youth-driven and funny. It's been difficult to step away from mature items, because I originally launched JJJJ as research of what a "Grown Up" life should look like, after years of being subscribed to the Source Magazine for styling inspiration. The nostalgia is definitely hidden into the references of the products we make, from the 90's Crewneck to the Watch Cap beanies.
Garrett Leight's brand seems to similarly marry nostalgia and modern design with ease. Was that why it made sense to work with them? Yes, I bet unconsciously we gravitated to GL for that exact reason. From the Pacman reference in the logo mixed in with the Young Truman Capote-esque aesthetic of the Brooks frame.
As someone who many people look to as *the* source for inspiring, humorous, and subtle visual stories, how do you decide what is worth sharing? If it's inspiring or funny it makes the cut!!
---