Sunglasses

Eyeglasses

Sun Clips

Collaborations

Extras

Stories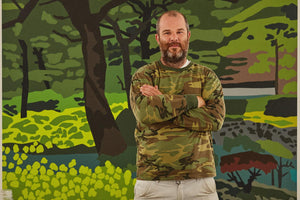 ---
Jonas Wood
Features /November 14, 2017
Words: Garrett Leight
Photos: Steven Taylor
---
Mamba Mentality of Jonas Wood

On May 12, 1997, 18-year-old rookie Kobe Bryant and the Los Angeles Lakers faced the Utah Jazz in a playoff elimination game. With the lights shining brightest, Kobe failed miserably, four times. Some twenty years later, Kobe reflects, "We flew back to LA that night. I got home, probably like three in the morning. I went down to the high school just down the street from my house. And the janitor let me in the gym. And I shot all day. All day. I mean allll dayyy. I didn't leave the gym. I just kept shooting and shooting and shooting and shooting and practicing and practicing and practicing."


It may seem unorthodox to begin an article about Boston-born contemporary artist Jonas Wood with a Kobe Bryant recollection, both because Jonas likely dislikes the Lakers and because his commercial success clearly warrants a more grandiose opening. But upon further inspection, it couldn't be a more precise metaphor for the nature of his work and who he is. To the naked eye, Jonas Wood is an artist who paints basketballs. More accurately he's an artist who paints basketballs, baseball cards, tennis courts and golf courses. OK, he also paints portraits and plants, pottery, and bathrooms. But for the sake of my analogy, it's his sports paintings that gave him the spotlight.




What draws the comparison to the notoriously intense, hard-working Kobe Bryant is how Jonas does it. And perhaps that is what matters most. Jonas' commitment to art seems almost militant. He works and studies feverishly, spending hours upon hours mastering his craft in his own vision. His mentality is that of an underdog. "I have a lot of insecurity but I'm also really confident. I can see myself getting better. But I'm competitive with myself. I have a lot of doubt. But I think it's about being self-critical. You have to be critical of what you are doing, even if you think it's perfect. There's got to be some way to be critical so you can keep moving. A design or a painting is a moving body of work that's growing and contracting and reinventing itself and changing. That's why people call it practicing. If you don't keep practicing what you're doing then you can never be great."




To the art community, Wood is classically trained. His icons and influences are Monet, Picasso, Matisse, Katz, Hockney and others. He's represented by a small army: the Gagosian Gallery, David Kordansky Gallery, Anton Kern Gallery, and Shane Campbell Gallery. His work is featured in MoMA, the Guggenheim, the Hammer, and LACMA. His collectors include everyone from Leonardo DiCaprio to Kanye West. He's now in an elite group of artists that can say they sold a piece of art for one million dollars. "I've always thought my work should be worth a lot more money than it was, and maybe now it's close to worth what the true value is." Jonas thinks art might be the lowest percentage success rate out of any career path one could ever choose to take. I wouldn't personally suggest anyone, including my own kids, pursue a career in art.




But money doesn't seem to be a distraction or motivation for Jonas. In his words, he doesn't even want to know how much he's spending unless he's spending too much. His relationship with money is almost reckless. But it's almost that recklessness and that risk factor that creates the reward: "I made $29,000 on my first show and I quit my job. I basically spent all that money making more art. Then my second show I made $80k and immediately invested in a studio that cost $50k a year, without even thinking about it. It sounds ridiculous but I was just thinking, 'I'm just going take this money and invest in myself and gamble on myself." Obviously that gamble has literally paid off: If I had bought a Jonas Wood painting when I met him in 2011, the value would have increased by approximately 1000%. That's not an exaggeration. It's crazy to think a large painting of Greg Oden could have made me rich. So invest in Jonas Wood if you can. It's more of an ironclad investment than Apple or gold. It's death and taxes.




I think it's Kobe Bryant's mentality that supports it best – that hunger for winning that makes success so sure. "The most important thing is that you must put everyone on notice that you are here and you are for real. I'm not a player that's just going to come and go. I'm not going to make the all-star team one time. I'm here to be an all-time great." These might as well be Jonas' thoughts exactly.


---