Sunglasses

Eyeglasses

Sun Clips

Collaborations

Extras

Stories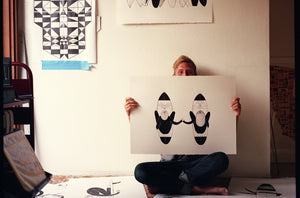 ---
John Antoski
Photos: Randy Ronquillo
WORDS: CHARLES VENTURA
Location: Encinitas, California
---
Surf, sketch, & sun
THE PATH OF PROGRESSION is as unique as a fingerprint. It ventures along a continuous and connected series of movements that bring an individual closer to a goal or destination. But it is special when you encounter an individual whose varied artistic pursuits fuel the progression of one another. John Antoski is one of those people.

Born and raised in Canada, Antoski spent his childhood years snowboarding the mountains of British Columbia and was in the fortunate position to witness firsthand the early development of the sport. His hometown of Calgary boasts the very first Snowboard shop in Canada and served as a direct line to the skate and snow lifestyle concurrently evolving in California. Coupled with an inherent interest in illustration, his boardsport passions served as the perfect vehicle for self-expression. "I always remember drawing. I would make elaborate pieces on desktops and treat my textbooks as sketchbooks. It wasn't until much later that I realized I wanted to go to art school and pursue art professionally.

In 2005, after graduating from the Alberta College of Art & Design, his path eventually led him to Encinitas, California where he accepted the position of Art Director for the extremely influential TransWorld Snowboarding Magazine. With his newfound proximity to the ocean, it was only a matter of time before Antoski replaced his love of snowboarding with surfing. "Surfing changed my life completely. It's changed the materials I use and the surfaces I paint on." His current body of work clearly showcases this change.

Having just finished up a solo show at the Subtext Gallery in San Diego, Antoski's illustrations translate his unique view of the waterman lifestyle onto paper. Minimalistic in approach yet powerful in delivery, the strict use of black ink with thick white paper holds roots deeper than one might think. "I was influenced by the tradition of the white of a surfboard and the black of a wetsuit. It's that honesty and simplicity that inspired the work. The challenge working in pen, brush, and ink was that it was very permanent. There was very little room for error. Total commitment. In the end it came out great and I'm stoked to do more."
Antoski's answer for the future of his art could pretty much be applied to surfing as well. "I want to go bigger and take the work to three-dimensional surfaces. Maybe go down to Baja and paint out some buildings." One thing is certain though, the ocean will continue to inspire and elevate his creative drive. "I think my work is always reflective of my environment. And right now my environment is Southern California by the ocean. And that's exactly where I want to be." Check out John's site here.
GLCO x John Antoski
This year, GLCO has partnered up with John in time for the holidays. Every purchase of frames in GLCO stores will come wrapped in our exclusive GLCO x Antoski packaging.
---