Sunglasses

Eyeglasses

Sun Clips

Collaborations

Extras

Stories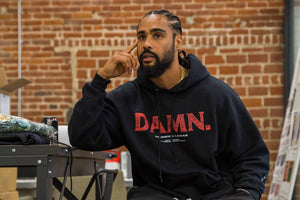 ---
Jerry Lorenzo
Features /November 30, 2017
Words: Olivia Purnell
Collaborator Steven Taylor
---

Jerry Lorenzo is a low-key guy having a high-key summer. When we meet, he's fresh off the plane from a pop-up in Miami – a collab with New Era that honored six former MLB All-Stars and his father, pro ball player and manager Jerry Manuel. He's days away from launching Fear of God's mammoth 96-look fifth collection.


Amid a sea of sample high tops in his LA Arts District studio, Lorenzo is soft spoken and chill when I ask him how he keeps a handle on all of this. "It starts with one guy," he says. Technically, two guys, but let's take Christ as a given. Lorenzo's a God-fearing man who's not shy about feeling blessed. He's built his company on the Christian principle that to whom much is given, much is required. So, God's done his part. For the rest, "I need a muse," Lorenzo says. Before Lorenzo starts working on a collection, before he combs through colorways, a million sneaker samples (truly), and a million more production problems, Lorenzo finds a guy; a guy whose look and attitude personifies the whole collection. A guy who makes it all make sense. For his fifth collection that guy was Geron McKinley, a half-black, half-Mexican model from Compton with a slightly broody ethos and a crucifix in his ear. "Well, it was Geron and Ozone. Remember the movie Breakin'?" Lorenzo asks, smiling now, "with Turbo and Ozone? As I'm building the collection, I think, 'Would it work on Geron or Ozone?' If it works on the muse, even if I have a hundred pieces, I know they all work."




This math tracks. The collection feels like a cohesive statement. And though Geron/Ozone is the test case, the pieces radiate Lorenzo. The collection's a stylistic combination of varsity athlete cool, Boyz 'N the Hood toughness, and repurposed family hand-me-downs. And though Lorenzo has mined 90s narratives before — vintage vibes from the pre-cell era are his specialty — this one breaks new ground. "As much as I was in a white high school, I never felt a part of it. I never felt accepted, and so this grungy rock story I told in the third and fourth collection was kind of almost fantasizing about a culture I was never really allowed to step into. This collection's a lot closer to home."




The campaign film is set in Lorenzo's grandparents' living room, complete with a cross-stitched pillow that reads "Grandmas are for hugging." Family pics are juxtaposed with news clippings from the Civil Rights Movement. Over a gospel soundtrack, a cast of black and brown models lounge on his grandma's pink tufted sofa in jackets inspired by Lorenzo's youth and the gear his father brought home from baseball practices. "I was going back to the simplicity of things and taking what I think of as American classic pieces and kind of modernizing them through my own lens," he says. In the midst of our country's sociopolitical dumpster fire, a lot of artists are staying away from Americana. Even Lana Del Rey, our patron saint of the sad heartland mood, has reportedly stopped using the stars and bars in her visuals. So in 2017, there's something quietly revolutionary about presenting a collection of American classics based on black youth and starring a biracial kid from Compton wearing a Barry Bonds earring.




"Not to sound corny," he tells me, "but I believe in the audacity of hope. If I'm able to give somebody the hope that hey, you can create your own…you don't have to compromise who you are because of what you do for a living. That's what I'm trying to do." So what's next for the man to whom much has been given? A vacation? Probably not.


---