Sunglasses

Eyeglasses

Sun Clips

Collaborations

Extras

Stories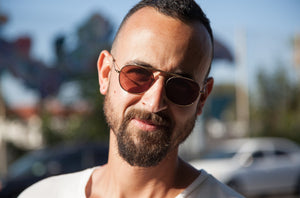 ---
Jason Casillas
Features /July
Words: Emily Draznik
Collaborator Photos: Cristina Dunlap
---
Not to toot our own horn, but we'd like to think that the GLCO retail experience is one of the best out there. Everyone's had a bad customer experience that was just a negative Yelp review waiting to happen; we don't want to put you through that. GLCO takes the time to hire extra special people in our stores because we care. Jason Casillas is our La Brea store manager and he's one of those unique individuals. With help from Jason and our boys at the GLCO flagship, your long and painful search for a new pair of glasses is made easy. There's an incredibly personal element to glasses and eyewear. Not only do they affect your appearance, but people see them whenever they look at your face (all day long). Every person with a pair of our frames might wear them a bit differently. It's the ability to identify an individual's style immediately and advising without completely overwhelming that makes an optical associate truly valuable. You can tell our retail employees possess these qualities just from a short conversation with them. Don't take our word for it; go on in this weekend. And in the meantime, we spent a day off with Jason, his wife and daughters to hear what he had to say about it.

When and how did you get your start in eyewear? My mother-in-law has been an optician for 40 years and loves every aspect of the business. She knew I loved eyewear and encouraged me for years to get licensed and become one myself. How many pair of glasses do you own? Which pair do you wear the most? I rarely hold onto things that I don't wear or use anymore. I currently own about a dozen Garrett Leight frames and a couple vintage pieces. I'll be expanding on that GLCO assortment, for sure, as we head into FH15 product. What is your favorite part of your job? First, let me say that I can only sell a product that I truly believe in. I don't design them. I don't manufacture them. But I feel like these frames are my own. When we install someone's Rx into a GLCO frame and they put them on with a smile on their face, it makes me very happy. Whether in-store or on the road, I love showing these frames to someone who isn't yet familiar with them. It's always a very positive reaction.

Have you ever lived somewhere else other than California? What is it about here that feels like home? For me, to say that I've "lived" somewhere means that I was integrated into the community and really felt like a part of it. I've had extended stays in different places, but I have always felt like a California boy "just visiting." I love every part of Cali. From camping in the Sequoias and skate trips up to SF when I was a kid, to discovering secret beaches and playing in tidepools with my daughters now. I've barely scratched the surface as to all that this state offers. You're also our West Coast Sales rep. What's your favorite city to travel to outside of LA in California and why? I love heading down to San Diego. The locals are great and you can find both amazing breweries and great Mexican food. Downtown area has so much charm and the beaches in Del Mar and Encinitas are unbelievable. Describe your perfect day off. Wake up early on a sunny day. Head to beach with wifey and our two girls. Play in the ocean until we're exhausted and crispy. Burger and a beer, outside, for lunch. Text the babysitter. Head to downtown with wifey for oysters and probably another burger for me.

You have a very distinct sense of style. What are some of your favorite brands to wear? What would you consider your everyday go-to outfit? I'm most proud to wear smaller, local brands who put tons of love into the product. Working for denim brands for many years, I have a very special love affair with indigo dyed garments and pieces constructed the old-fashioned way with natural fabrics and natural dyes. My daily kit, currently, is a Jungmaven tee shirt and a pair of pants from our boys over at Dr. Collectors on La Brea. My favorite hats come from my friend Lauren at Yellow108. All LA-based brands. Do you have any general advice for someone who's looking for a new pair of glasses? I'd say ask yourself who you're inspired by and see if you can steer that into a frame style that suits the shape of your face while also letting your own personality shine through it. GLCO draws from the past a lot rather than just churning out a current trend. If the current trends aren't doing it for you, I'd say try a classic style. It's okay to go outside of your comfort zone.
- Other rad related reads: Jason's guide to best sunglasses for women Bobby Valentine of La Brea Ryan Ford of AKC
---