Sunglasses

Eyeglasses

Sun Clips

Collaborations

Extras

Stories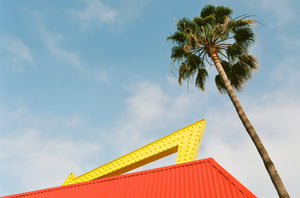 ---
In-N-Out
Photos: Ian Flanigan
Words: Patrick Sullivan
---
SPECTACLE 8
An icon of California, In-N-Out Burger's casual presentation of the drive-thru burger joint to end all drive-thru burger joints perfectly embodies the difference between California and the other 49. In 1948 Baldwin Park, Harry Snyder was a burger enthusiast with an assiduous method for serving his simplistically delightful menu. He was also a design thinker and tech tinkerer who empathized with his user's dining experience, inventing a two way speaker system that let In-N-Out "offer true drive-thru service worthy of its name." You might say he's the Steve Jobs of the burger. Or the Henry Ford with his insanely efficient burger assembly line. It never ceases to amaze me how a seemingly endless line of drive-thru customers at lunch or dinnertime actually takes less than ten minutes to get through. How do they do that?

Sometimes I think eating at In-N-Out seems like a sort of religious experience. We all go there with different needs, and In-N-Out provides for us. Maybe it's been a hard day, and you need the comfort of a classic #1 with grilled onions and the best lemonade around. Or maybe you're stoned out of your mind and need a burger 4x4 Animal Style with Animal Style fries and a root beer float. Yeah, I bet you didn't know that you can get a root beer float. Or we all know there's been a time when we are getting ourselves back in shape but don't mind cheating with a protein style burger and a water, no fries. You know, for that inner yoga girl in all of us. In-N-Out presents a menu so refined, so drilled down that even the secret menu doesn't add another item, just iterations. It's already perfect. Even foodies like Bourdain unabashedly, unapologetically sing its praises. It's not middle America's fast food. It doesn't need a clown or a king to sell burgers; it doesn't need 145 menu items. Fresh sirloin beef, fresh cut fries, crisp iceberg lettuce, melted cheese sticking to the wrapper, and that delicious extra Animal Style sauce dripping down the side of your mouth. I can almost convince myself it's healthy, but who cares really.

For as cool as In-N-Out can be, it's kind of fraternal in a weird way. From the Jesus agenda to the secret menu, this little burger chain inspires the same mystique as a secret society. Coupled with the biblical verses, "Animal Style" sounds like a strange enough mantra to elicit the analogy. Plus the big money's there. Lynsi Snyder, the granddaughter of Harry and heiress to the family business, is the youngest female billionaire in the world, leading a secret life free from the public eye. She's been nearly kidnapped a couple of times, so visions of Patty Hearst come to mind. Hamburger Patty Hearst?

Since its inception, In-N-Out continues to grow and profit as a company. Having never been franchised, Snyder commands an empire of burger joints lining the highways of California and in more recent years gracing Arizona, Nevada, Utah, Texas, and even Oregon now; Medford, not Portland. Sorry. So anyway, what's the point of this whole article when we all know In-N-Out is the best? I don't really know. When I introduced Garrett to the Bible verses, he told me that it almost made him not want to eat there, as he finished his entire meal. We eat In-N-Out together nearly every time I see him. It's California in a box. It's totally cliché with palm trees and sunglasses, but so what? It's delicious and easy as fuck. In fact, I'm going to go get some right fucking now. Double-Double Animal Style, regular fries, and a root beer.
-- Flip through the whole issue of Spectacle 8 here. Further Spectacle 8 reading: The L.A. Coliseum
---