Sunglasses

Eyeglasses

Sun Clips

Collaborations

Extras

Stories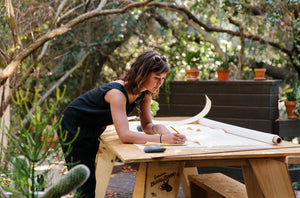 ---
Heidi Baker
Interview by: Mariah Gardner
Photos: Alanna Hale
---
OZMA is a California-based label, a collaboration of longtime friends, Heidi Baker and Mariah Gardner. We launched OZMA in the summer of 2015, and continue to draw inspiration from the West Coast-lifestyle we both share and love. Our friendship has spanned almost 15 years, since we first met in San Francisco; Mariah continues to live in the city's Mission District while Heidi now resides in Topanga Canyon in L.A. All OZMA garments are designed and made in California.

It's probably safe to say you surf almost every day. How does your lifestyle influence the way you design clothing? Ha. I do spend a lot of time surfing. It makes me feel great to be in the water, especially early mornings. During my Levi's days I would be up at 5:30 am to sneak it in before heading downtown to work. The salt in my hair always felt so good especially when it was a day I had a big meeting or a design presentation. So to answer your question, it's important to me to have clothing that is simple and casual but carries itself well. The coverall for instance is so easy to throw on straight from a wetsuit, even with my crazy beach hair I'm ready to chat with the president of the company. I've always been relatively active and I'm attracted to simple shapes and boyish outlines. When I design clothing, it's inherently for an active woman who wants a quality garment that looks great in any situation.

When did you start designing? Did you know way back then that someday you wanted to design for yourself? Has creating OZMA been easier or harder than you thought it would be? I started sewing when I was a kid. I hated everything in malls so I used to go to a by-the-pound thrift store called Love's Closet in my hometown and find things with interesting fabric to alter or turn into something else. I went to college for Marketing and after graduating I hated the idea of a normal desk job so I just tended bars. I started a small clothing line that sold in an art gallery/boutique in the Mission called Mimi Barr. It was pretty amateur, so I took a few classes in pattern making and draping which gave me a much better understanding of how to make my ideas into garments. One day one of my regulars at the bar brought in the design director for women's Levi's. I showed her my work and she brought me in as a temp assistant designer. That's what really started my career and now I've been fortunate to work for some great companies. So yes, I've always wanted my own line. It's a gift to be able to design for yourself and have full control over the aesthetic. However, it is a blessing and a curse. As you know, I'm a perfectionist and often a work maniac. I think that the hardest thing about doing OZMA is letting go of imperfection and finding my balance.
I've always wanted my own line. It's a gift to be able to design for yourself and have full control over the aesthetic.
For OZMA's Spring Summer 16 collection you drew a fair amount of inspiration from one of our favorite writers and style icons, Joan Didion. What is it about California style that is so mesmerizing? And how does a California brand like OZMA translate elsewhere? Yes! I fell in love with Didion after reading Slouching Towards Bethlehem, which was given to me as a birthday gift. Didion has a gift for pulling out the meaning in the everyday and gracefully articulating her particular view on it. I think that's why I gravitate towards Didion, because she's someone who was interested in the culture here, but carved her own place with a unique perspective. The youthfulness that is integral to the lifestyle here makes California a unique place to me and I feel like that translates into they types of garments I like to make and enjoy wearing the most.
- Check out OZMA's California crafted threads here.
---