Sunglasses

Eyeglasses

Sun Clips

Collaborations

Extras

Stories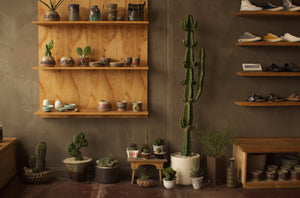 ---
Gym Standard
Features /June 3, 2017
Words: Tiffany Chan
Collaborator Photos: Tiffany Chan
---
"There's only one speed in San Diego: slow," Gym Standard founder and director Edwin Negado tells me. But that's not a bad thing – case in point? Gym Standard, one of the most inviting go-to spots for carefully selected footwear and everyday design goods. As Edwin and I grab coffee two doors down, he jokes that he's the worst at interviews and extremely camera shy, but that he loves talking to people. It shows: our conversation is punctuated by all the hello's and shout-out's that Edwin genuinely greets everyone with. We discussed entrepreneurship in retail while I snapped a few photos of the young and talented Julian Klincewicz – whom you'll later hear about – and at the end of it all, I could only think to myself that this change of pace was none other than refreshing.

On Gym Standard and the #30ECB: This store is more than just what's happening here – it's also what's happening around this block (El Cajon Boulevard) and the community. Without your community you don't have a store, and without community you don't have an identity. I think that shops – not just what's happening on this two block radius, but also on La Brea and 3rd, or on Fairfax – are very important in giving identity to a city. As for what we do here, we hope that our store is a cornerstone for artists, musicians, and poets. We want to give a place and a forum where people can express themselves. For example, our bottom magazine rack is not just solely for magazines, but also a place for self-publishing. Our titles are usually about fashion, music, design, UX/UI development, but we're pretty open to anything. We're open to a lot of things here, and North Park is one of those neighborhoods where people of all social backgrounds and ethnicities come together; it's a very diverse neighborhood that's walkable and unique to San Diego.

On coffee shops and entrepreneurship: You gotta follow good coffee, I've noticed for business. Every time there's good coffee, there's usually something happening. When I was coming down to San Diego on the weekends while I was working my day job out of town, I would literally sit and tally the people going through at the cafe. I probably did it for 3 shifts, but you knew almost immediately that, "Oh shit, there needs to be something on the block." It was a pretty forgotten block until that cafe moved in during 2012. San Diego's just used to walking laps around Fashion Valley, but really it's local businesses and small entrepreneurs that represent a city and its creative people.
Follow good coffee,
I've noticed for business. There's usually something happening.

On retail as more-than-retail, and SD talent: When I was working for Vans I really loved the company, but ultimately I felt disconnected from music and the arts, which is what I was most passionate about as a creative person. So I always knew I was going to open up a business, whether it was a brand or a store. You gotta love owning a store, because running one is the most inefficient way to make money. Sometimes it looks glamorous on the internet, but there's a lot of other easier ways to make money. What I love doing is being part of the community – not just being a retailer but being a purveyor of the arts. That's a really cheesy quote, but I want to be a key person, especially in my hometown, to kind of activate some of these young and up-and-coming talents, these makers of San Diego. There's that kid Julian Klincewicz who lives two blocks from the store, and we've helped him navigate through this industry, whether it be doing art shows with Vans or traveling to Japan, where he's been able to make a name for himself. I don't take credit for his success, but I do think we were integral to opening him up to things outside of skateboarding, or things that go on outside of San Diego. Again, we want to be that kind of a launchpad, on top of being a store.

On the Gym Standard name: When you think of a gym, it's typically a place where people work out, or a place of recreation or teamwork. I wanted to take that mentality to the store; I wanted it to be this place of interaction and self-improvement, even if it's through product like shoes or plants or a ceramic pot. It's a communal vibe of positivity. It sounds really sappy, but I want to set a sort of local standard for that. Local recommendations: If you like vintage stuff, there's Score. There's a new one called Break and Rumble over in South Park, which is a neighborhood I really like too. There's another store called Aloha Sunday which is doing amazing stuff. On your way up to LA, closer to Del Mar, check out Lone Flag.
- Visit Gym Standard: 2903 El Cajon Blvd. Unit #2 San Diego, CA 92104 Stay updated on the latest local happenings through insta.
---