Sunglasses

Eyeglasses

Sun Clips

Collaborations

Extras

Stories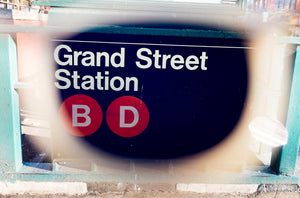 ---
Grand Street
Features /December 10, 2015
Words: Diana Pappas
Collaborator Photos: Diana Pappas
---
Hello, New York, the complex, multi-faceted metropolis that is always changing, always moving forward, never the same as I last remember it. You'd think distilling it down to a single street would simplify matters, but how wrong you would be. Take Grand Street, our new GLCO home, for example – what neighborhood could possibly call Grand Street its own? SoHo, Chinatown, Little Italy, Bowery, and the Lower East Side can all rightly lay claim to it. The boundaries between neighborhoods are tenuous and fluid, with waves of immigrants declaring it their home and setting up shop throughout Grand Street's long history.

Where else do live crabs attempt their escape from fishmongers, and banh mi sandwiches get sold at the back of jewelry stores? Where tourists contemplate overpriced cannoli in unorthodox flavors, and ladies huddle over freshly stocked persimmons, competing for the best ones? Side streets beckon to street art; museums, galleries, parks, and landmarks rub elbows with trendy boutiques all on one street less than two miles long. The subway rumbles below, but pigeons panic above – agitated by a red-tailed hawk surveying the scene from a rooftop. It's chaotic, it's New York.

Maybe Grand Street is special, offering up a bit more vibrance, contrast and texture than most NYC streets, but then again New York is much more than just a single street or neighborhood or borough. There is always something unseen, uncovered. You can't hold on to New York and keep it just as you like it – it will escape your grasp and become someone else's New York unless you too decide to change with it, meet new people, explore new streets, and say hello to new favorites waiting to be discovered.
Now Open

149 Grand Street New York, New York 917.262.0955 11am to 7pm everyday


---