Sunglasses

Eyeglasses

Sun Clips

Collaborations

Extras

Stories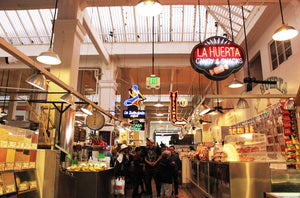 ---
Grand Central Market
Features /January 8
Words: Tiffany Chan
Collaborator Photos: Lindsey Lee
---
For any city that I find myself in, the people watching spots always usually end up being my favorite places to hang out. I don't mean that in a creepy stalker way, but there's just something about seeing the people of the city come through, do their thing, and just be themselves.

Grand Central Market is definitely one of the best places in LA to do so, which is saying a lot given the sprawl of the city. It's not common that you find a place in LA where a Westside gal will drive out for brunch and Eastside families will grab groceries for the day.

The market is located right in historic downtown, an area that's been kind of off the map for a while until recent years. Grand Central's recent makeover, along with with the new influx of hip boutiques, hotels, and eateries, makes Downtown a definite go-to spot on any given day now. The great thing is that the area still feels like historic LA, or as much as LA can feel historic, with old theater marquees, quinceañera dress shops, the restored Ace Hotel and plenty of mom & pop stalls lining Broadway.

You should come if you haven't already. There's a million options: the oft-instagrammed Eggslut (line up early), Ramen Hood, Wexler's Deli (their pastrami sandwich giving Langer's a run for its money), Belcampo (burgers made from happy cows – until the end), and G&B Coffee (offering just about the best cup of joe the New York Times ever had). And there's a seat for everyone, even if it's just to watch the world go by.
VISIT

Grand Central Market 317 S. Broadway, Downtown LA Sun - Weds | 8AM - 6PM Thurs - Sat | 8AM - 9PM
---