Sunglasses

Eyeglasses

Sun Clips

Collaborations

Extras

Stories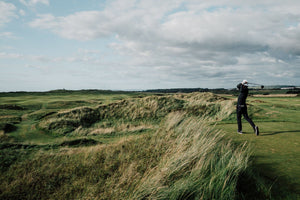 ---
Golfism
Words: Garrett Leight
Photos: Christian Hafer and David Okolo
---
"If you play only public golf you are a friend of mine and you're a friend of any golfer who doesn't have their head inside of their own ass."
-Erik Anders Lang

Golfism is a thing. Like racism, sexism, and elitism (all prevalent in today's golf community), people hate golf. But like most things, that sentiment is going to change. The game itself is simply too beautiful and deserves better. At the forefront of this new wave of its inclusive future is golf personality Erik Anders Lang. Erik is what I would describe first and foremost as a soul golfer. His passion for the games past, present, and future goes far beyond most golfers' wildest dreams. Like the rest of us golf obsessed nut bags, Erik just can't get enough. In fact, playing more in new places with more interesting people and ideally with his Maltipoo, Snowball, is literally his job. Erik's role in impacting the future of golf is realized through his TV show Adventures in Golf and his podcast, The Erik Anders Lang Show. The 8 minute long web series of AIG airs on the YouTube Channel, Skratch TV and follows Erik chasing unthinkable golf missions from the slums of Mumbai to the private clubs of Tokyo and back to Compton Municipal. His bi-weekly podcast has featured high profile guests like Rob Riggle, Michelle Wie, Tommy Chong, and, my favorite, Joseph Parent, author of ZEN GOLF. The podcast covers topics like golf course design, race, politics and finding your chi all through the lens of golf. Do yourself a favor and watch one episode of Adventures in Golf right now. This article can wait 8 minutes.

Through Erik's passion and subsequent journey of a golf life, he has successfully created a healthy following of pure golf enthusiasts, a community of people who are accepted as equals no matter their race, color, creed, income, or sex. Erik calls it The Random Golf Club. Everyone is welcome, and the membership fee is nothing more than a small obsession with golf. Monthly dues are merely optional. They range from as low as a blue tarp driving range in your driveway (I've seen it) to a high of multi weekly rounds at your local municipal, and in some cases even to members of private clubs. It's a beautiful thing. Most likely inspired from the powerful words of golf course architect Geoff Shackelford, "To be a Golfer, all you need is a golf club in your hands." To me, the RGC is the idea that no matter who you are or where you are, as long as you're golfing, then you're welcome. Even if you're sipping champagne cocktails as a guest at the Bel-Air Country Club or getting a premade breakfast burrito and a shitty coffee at a municipal, the RGC is a state of mind more than anything. It's a common high that we as golf nuts are chasing like a crackhead chases his next hit. It's the quest for greatness, for hitting it pure, for sinking a 30 footer, for beating par, and for getting a hole in one. The best people in the golf community are so consumed by their love for the game that everyone is welcome. And those people are the RGC members and the biggest part of golf's future.

"A lot of people think of private clubs as the holy grail. Don't worry about it, you're not missing out tremendously on some life experience that is passing you by. Like losing your virginity or smoking crack for the first time. What's happening is you're just not part of that group and it's not a big deal. It's not that incredible."
-Erik Anders Lang

Look around us for a second, times are changing. Exclusivity is out and inclusivity is in. Transparency is king. If we've learned anything from this administration it's that walls are bad. People don't want them. Gone are the days of membership being inspirational, they are merely an aspiration. Private clubs aren't elite, they're different, but they are not more important. In fact, they may be less important to the growth of the game of golf. While mine and Erik's mutual addiction for the game brought us together, I believe our shared disdain and aversion towards being told what to do is what we have most in common. Clubs have rules, all of which have nothing to do with the game of golf. Collared shirts, pants with belt loops, no dogs, no backwards hats, and sometimes no women, children, Jews, Catholics, or even non-white people allowed? No thank you.

Now before you jump to conclusions about me and definitely not Erik, we're not socialist or communist, and, if we were, that's not the point. By all means, keep the private clubs. Seal the gates. Segregate, judge, divide, conquer, golf and surround yourselves with those that "fit in.". That's what we've come to know as American, right? That's your right, and for what you're paying, you've earned the right to do what you want privately. Go for it. But the game of golf itself is a beautiful mind expanding challenge that is good for the soul. Everyone deserves to participate everywhere. It's for the greater good of humanity. We all know that if you told any real golfer tomorrow that they could only exclusively play at the Riv, Olympic, or even Augusta for the rest of their lives and nowhere else, that would be prison. There's more than enough great golf out there and the game doesn't need you as much as you need it. You are not special; you are just rich and quite frankly, missing out. It's this exact idea and hunger for the game that created the monster that is Erik Anders Lang. Erik's commitment to his own personal happiness and his self awareness to realize what he had to do in order to be happy to reach his goals is admirable to say the least. Last year, he left his private club because it was hindering his growth as a golfer. With an audience of thousands, this important and fearless decision to not only leave, but to share in detail why he left, is an example of the movement away from golf's misunderstood and in some ways haunted past. Thanks to Erik and people like Erik (many of whom you can hear on his show), the future of golf is on a slow path to change. Above all else, Erik's just not going to play by the unwritten (and sometimes written) "rules of golf." He's trying to rewrite them, and so am I if I can. The reality is you can too. Support the little guys. Eventually, golf has to accept it. Adapt or die.
---