Sunglasses

Eyeglasses

Sun Clips

Collaborations

Extras

Stories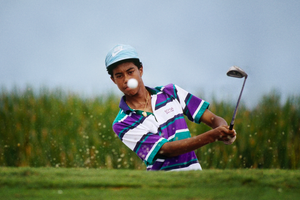 ---
---
I don't claim to be any type of expert when it comes to golf style or the history of golf style. I fell in love with golf well before I became passionate about the way I dress. At the end of the day anyone who loves the game as much as I do is welcome to dress however they want, and they are good by me. I only have but one rule when it comes to golf– don't be an asshole. As long as you follow that rule, we can play some golf.
I think the message that is most relevant to me when it comes to the history of golf style is the same as all things: money ruins everything. The fact that the average golfer dresses terribly isn't Jordan Spieth's fault, it's Under Armour's fault. It's Travis Matthews' fault. At times it's even Nike's fault. Naturally, people are going to be inspired by their icons. Iconic athletes are the ones that win regardless of their sense of style. Major corporations pay those athletes to wear their gear. Typically, major corporations don't employ the most talented people in their creative departments. Or if they do, those people are burnt out hitting sales and profits goals that quality and style are forgotten. Welcome the introduction of early 2000's technical sweat resistant fabrics on the golf course…which ultimately led to horrible fits. And oversized logos which end up being worn by people not being paid to wear a massive Callaway logo on their head, all because they fuck with Lefty.
From what I can tell, the golden era of golf style was literally any time before Tiger Woods turned pro. Even Tiger Woods had the sickest style of anyone before he met the pro tour. Name a professional golfer before 1999 and I pretty much fuck with their style. John Daly, Arnold Palmer, Jack Nicholas, Freddie Couples, Jan Stephenson, and of course Lacey Underall. It's classic polo's from classic brands; Dunhill, Fred Perry, Lacoste, and Fila. It's pleated pants, just a little bit baggy in all the right places. It's visors, buckets, and panama hats. It's brogues and saddles. Whatever it is, it doesn't double as your CrossFit outfit.
To be honest, I'm happiest on a public golf course. I want to wear tie-dye gym shorts, a Kobe jersey and a bucket hat from a skate brand. When I do dress up for private golf, which of course I also love, I almost never wear anything from a golf brand, and certainly no logos. There are dozens of brands with dapper fits that will satisfy the old world country club rules. You just have to know what to look for. My go to's in general right now are Aime Leon Dore, 18 East, and Officine Generale. But there's also Rowing Blazers, James Perse, Engineered Garments, and Alex Mill. They all make nice things that are acceptable in a country club. And not just because we are collaborating with them, but mostly because my favorite golfer is Chi Chi Rodriguez, Footjoy is the golf shoe for me. Especially if I'm dressed down on a public course, I want that one pop of classic golf to make it official.
---