Sunglasses

Eyeglasses

Sun Clips

Collaborations

Extras

Stories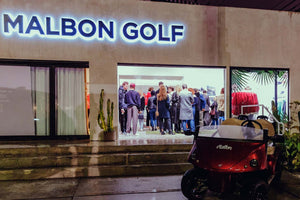 ---
GLCO x Malbon Golf Launch Party
Features /February 15, 2019
---
On Wednesday night, LA's cool kids and golf's movers and shakers braved the cold and rain to celebrate the much-anticipated collaboration from Garrett Leight California Optical and Malbon Golf. The capsule collection includes sunglasses, a bucket hat, and a golf club head cover to bring youthful California-cool style to the course. The event also marked the launch of GLCO's newest issue of its in-house publication, SPECTACLE Magazine, which is specially themed around golf. The two LA brands brought together a new crowd — from golf-obsessed pros and enthusiasts to those who had never even considered holding a golf club in their hands. The event, hosted by golf O.G., Marty Hackel (aka Mr. Style), was a perfect representation of GLCO and Malbon Golf's shared goal of celebrating and growing the game of golf.
As rain continued to pour outside, guests found shelter in the brightly lit and open space of Malbon Golf's shop on trendy Fairfax Avenue. With the music bumping, courtesy of Graz on the turntables, and the room buzzing with the likes of Troy Mullins, Erik Anders Lang, Caroline Vreeland, Twin Shadow, Mathieu Sheyer, David Appleton, Amanda Riley, Hannah Masi, and more, not even the wet weather could dampen the mood at Malbon Golf. Friends, new and old, mingled, tried on sunglasses, flipped through the new magazine, and even took some swings on the Swing Studio simulation range. Stylish catering company Haute Chefs LA dished up an exceptional menu of hors d'ouevres, and photographers flitted about the room snapping photos of guests throughout the evening.
While the front of the shop was lively and packed, the back patio served as a quieter, more intimate space. Candles strategically lined the floor and tables, and decorative details were thoughtfully considered, like golf balls submerged in the floral centerpiece vases. In the back was also a bar serving up Nosotros Tequila, Calidad Beer, and Topo Chico — a true homage to California and its Mexican roots. Guests toasted the evening and kept warm via libations and heat lamps.
The night was marked by a diverse crowd and the convergence of fashion and golf. In the same vein, the GLCO x Malbon Golf collaboration inspires a cultural shift in the game of golf and the movement towards a more youthful and diverse golf community. The limited-edition collection is now available to shop on garrettleight.eu, at GLCO retail stores, and at Malbon Golf. To pick up an issue of the latest SPECTACLE Magazine head over to a GLCO store or Stumptown Coffee location near you.
Here are some photos to relive the night.
Photos by Daria Nagovitz Photography
---