Sunglasses

Eyeglasses

Sun Clips

Collaborations

Extras

Stories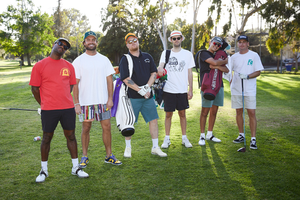 ---
GLCO x FootJoy Golf Party
---
If there's a better way to spend a Friday afternoon than with your best buds on the golf course..well we probably wouldn't believe you anyways. Technically we do need an excuse to cut the workday short for a round + some so our collab with FootJoy came at an optimal time. We called up Penmar Social Club, scooped up the merch, opened the bar, and unleashed the homies onto the green.
We're stoked about our GLCO x FootJoy partnership. Yeah, we're longtime fans of the brand but more than that, the designs stemming from it are pristine: a limited-edition colorway of the Elkgrove Sun and mens and womens golf shoes, all featuring Georgia Tortoise detailing.
And like all of our events, things got good-naturedly rowdy. But what more would you expect from this crew of golf-optical nerds gone rogue.
---