Sunglasses

Eyeglasses

Sun Clips

Collaborations

Extras

Stories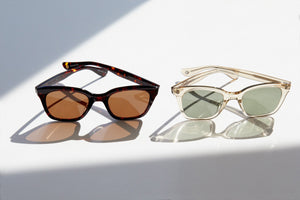 ---
GLCO x Clare V.
We swung by Clare Vivier's new Frogtown digs, where the Los Angeles designer talked us through the fourth installment of her best selling collaboration with GLCO.
---
By Clare Vivier
This is the fourth year we've been collaborating on frames together – the first shape we did was this 1950s French New Wave inspired, true feminine cat eye (think: Audrey Hepburn, Grace Kelly, or cool girl style icon Françoise Hardy), which continues to go strong. We kind of hit the cat eye trend as it was cresting in 2015.
Inspired by French icons like Françoise Hardy, our GLCO x Clare V. frame is a nod to laidback West Coast style and sophisticated Parisian charm. Photos by Eddie Waters.
Our second frame, The Nouvelle, is new for this year and feels, to me, like a perfect representation of Garrett's line and my line: he does such great fine, slim glasses, not big and ostentatious ones. And this more squared off version reminds me of what a 1960s leading man would be wearing. It's totally unisex and looks great on everyone.
I grew up in the Twin Cities and came to Los Angeles with my boyfriend, now my husband, who was working as a journalist and filmmaker for French television. And my brand started, really, with solving a problem for myself: I needed a laptop bag. I didn't have any experience in the fashion industry, I just knew how to sew, so I made a few designs, and walked them down to Mohawk General Store one day. They said: 'These are great, but you need more sizes', so I made a clutch. Pretty soon, I was going to the factory every day and kind of doing this trial by fire thing. When it came time to build a team, I hired friends-of-friends, smart people who I felt could do the job, not necessarily people with experience. That's something I know Garrett and I share –you're more concerned with surrounding yourself with good people than you are what someone's resume looks like.
Because I manufacture here in California and production is expensive, I've always had the equation in mind that I had to make interesting, chic, beautiful bags in a simple way. There's constantly the question of how to make something interesting, but simple. Even early on, it was little things like doing a contrast zipper, and playing with color where I could. I was painting stripes on bags, and driving to South LA to go to the silkscreener. You just figure it out as you go along. We're a local LA company, and we like growing within our community, so we're always working with constraints. I think constraints on design are a good thing. They force you to think more creatively, versus when you have unlimited resources and it can get messy.
I grew up in a nice area of St. Paul called Crocus Hill. There was a cute tennis club in our neighborhood, but we weren't members. I think I had a little bit of envy [laughs]. After I moved to France, I got more immersed in French classic design, which had a lot in common with American prep, so those influences just kind of blended together. I love living, working and being a part of the community on the Eastside of Los Angeles. My family takes walks in Elysian Park, or we ride our bikes on the Frogtown bike path. It doesn't feel like a major city over here along the river, it's very peaceful, you don't really know where you are sometimes. From our house, we can walk to restaurants without taking our car. In LA, that's a real luxury.
---