Sunglasses

Eyeglasses

Sun Clips

Collaborations

Extras

Stories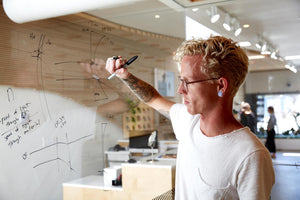 ---
Our Labs
Features /May 25, 2017
Words: Adam Johnston
Collaborator Photos: Joshua Spencer and Matthew Johnson
---

The Workshop
The Tools of the Trade

Black and silver and salmon colored boxes sit on the counters, mysterious machines at rest. The massed microscope-looking device is a lensometer, which finds the optical center of a lens, where the eye sits and sees, and verifies its prescription. There's the Phantom, an automatic lens tinting machine, with an oscillating arm that applies an even gradient to your lenses. Next to it a heated vat with small pools of dye in every color of the rainbow. The small spinning wheel is a hand edger, used to refine safety bevels before the finished lens is popped into the frame. There is a hot air frame warmer, an ultrasonic cleaner and a UV bath. Then the hand tools – anti-reflective marking pens, tiny screwdrivers and chromed out pliers of various shapes and sizes. But the biggest package under the Christmas tree is the Santinelli, a state of the art lens edging station with a vintage inspired salmon finish. The matching appendage on top is a frame tracer, which uses a probing metal needle straight out of Minority Report to outline the inner rim of a frame. This shape is then fed to the edging chamber, which cuts the lens by prescription, fit and frame, exactly as it wants it.
The Materials

"Different materials behave in different ways," explains Ryan Ford, Abbot Kinney's lab manager. Ryan cracks his knuckles and speaks in hand gestures, describing the linear, vertically stacked bonds of glass and CR-39 lenses with open palms building on one another to the ceiling. He compares these materials and their superior visual acuity to polycarbonate and how its dense weave adversely affects how light filters through, diminishing clarity. They even smell different: when cut pure glass has no scent—they call it pure glass for a reason—but polycarbonate "smells like meth." A GLCO lab has no room for such lesser materials.
The Craftsmen

Ryan sketches out the science of optics against the wall of glass, throwing around concepts like aberration, chromatic dispersion, color theory and index of refraction with the casual tone of a daily practitioner. He describes what he does in the words of a believer, a zealot almost, with faith in the absolute truth of his work. The optician's trade is equal parts art, craft and technology. It seeks out the design in decimal points, the soft touch in science, requiring the hands of a mechanic and the eyes of a gallerist. Give someone with the right training the right space, the right tools and the right materials, and they can make you something special.
The Work

The opticians at GLCO can cut your prescription, tint your lenses, matte your new frames or restore your old ones. "We don't care where your frames come from," Ryan says. They can do just about anything you can imagine to a pair of frames, and they can do most of these jobs in a single hour. The Grand location in New York has recently opened its new lab, with the flagship store at La Brea and SF outpost in Hayes Valley following this summer.

Optics is about manipulating light to see better or to see differently, shifting perception until you like what you see in the mirror. As a science it follows universal rules, but as a craft it is endlessly customizable. Opticians make the universal personal, creating custom eye and sunglasses for you, and you, and you. "We become what we behold. We shape our tools and then our tools shape us." Visit one of our labs and walk out into the sunny day with your fresh new shades.
Go Custom
Call, message, or visit our stores to customize your eyewear any way you like.
---