Sunglasses

Eyeglasses

Sun Clips

Collaborations

Extras

Stories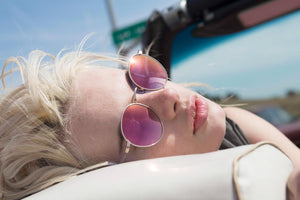 ---
Choosing Round Frames for Men
Guides /April
Words: Jason Betz
---
Why Round Sunglasses for Men?
Men seem to get very little diversity in their wardrobes these days. Most of us are stuck in jeans and a shirt; maybe we throw on a jacket for that extra layer effect but most of the time that's as far as it goes. Next to sneakers, sunglasses are one of the best ways to accessorize and shake up a man's style. Every guy should have a couple pairs and at least one round frame to set you apart from the pack.
History of Round Sunglasses for Men
Round sunglasses have been around ever since people started wearing modern eyewear. As early as the 1930s the Hollywood elite were wearing round sunglasses, which popularized the style throughout the 40s. Advancements in design and materials led to new styles like the Wayfarer and cat eye styles through the 50s, when the round style took a back seat. Round sunglasses saw a huge resurgence in the 60s and 70s and were worn by some of the most iconic figures of our time – think John Lennon or Janis Joplin. Today round sunglasses are seeing a huge comeback; our culture is tired of seeing the same styles and shapes from the past twenty years. It's time to take back the round shape.
Round Sunglass Styles: Popular Colorways and Materials
When it comes to picking out a round sunglass you have two basic types: metal or plastic. If you are more conservative in your style check out an acetate frame like the Hampton. A frame like Hampton is not totally round but definitely gives you the styling of a round. For a more adventurous round plastic check out the Harding or Coeur D'Alene. For the iconic round styling similar to what Lennon wore, grab a metal frame like the Wilson. Or get a little experimental with our leather wrapped Cordova sunglasses. Frames like this are always attention grabbing and make a great addition to any collection.
Choosing Round Sunglasses for Men: Things to Look Out For
When buying a round sunglass you need to be on the lookout for the usual fit issues. Make sure the temples (or arms) of the frame rest comfortably behind your ear. If they're too short you will experience discomfort and your frame may slip often. Look and see where your eye sits in the lens; your eye should rest comfortably in the middle to upper third of the lens. Lastly, a personal style note: when in doubt wear a smaller round lens over a larger round. Leaning on the smaller side gives a cool vintage badass vibe.
What to Wear with Round Sunglasses
The beauty of round sunglasses is that you can really wear them with anything. Wearing a round sunglass with something simple and clean like denim and a tee shirt can set you apart in a huge way. You can also dress them up and throw a pair on while wearing a perfectly tailored suit. You really can't go wrong with such a timeless look.
---