Sunglasses

Eyeglasses

Sun Clips

Collaborations

Extras

Stories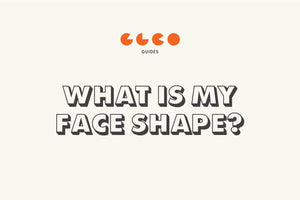 ---
Choosing Glasses for Oval Faces
---
How do you choose the perfect frame for your oval shaped face? Check out our suggested features and frames below. If you've got an oval-shaped face, you'll have more symmetrical proportions from top to bottom. Influencers like Kendall Jenner who wore our Wilson, and Nick Wooster have a similar face shape, which can include these characteristics: • Balanced proportions • Curving jawline • A chin that is slightly narrower than the forehead • Higher-set cheekbones
This balance, combined with your softly rounded features, gives you room to play with a lot of styles. What frames works best for oval-shaped faces - mostly anything, but consider proportion. Smaller faces can try out half-rimmed frames or a more tailored fit, like our like Linnie, Clune and Walgrove. Longer faces can give oversized and full frames a shot like our Calabar or Harding. However, with the ability to pull off almost any style, why not make a statement with bold, geometric frames. The possibilities are endless.
RECOMMENDED PICKS FOR OVAL SHAPED FACES

BOLD, GEOMETRIC FRAMES Lucky you, your facial symmetry has #blessed you with the ability to pull off almost any style of glasses. While you can definitely go for the classics, why not make a statement? Of all the face shapes, oval faces are the perfect canvas for experimenting with bold, geometric frames. Turn heads with our octagonal Jacqueline, or Breeze, a unique silhouette that mixes both straight and curved lines. Try out exaggerated shapes like our perfectly round Playa, or our bold, rectangular Wavecrest. Play with a variety of shapes and colors--the world is your oyster!

OVERSIZED & FULL FRAMES If you have larger features, you can pull off larger, fuller frames like the Emperor, Morningside, or our popular collab with Ulla Johnson. For a more lightweight option, try our oversized metal frames like the Convoy or Valencia.

TAILORED & FITTED FRAMES Smaller faces, or those who simply like a more fitted look, should consider narrower frames — just size down! Frames like Lovers, Ocean and Robson are perfectly tailored for smaller faces.
STILL LOOKING?

CIRCLE IN ON THESE STYLES: Jacqueline / Playa / Calabar / Ulla Johnson / Convoy / Valencia / Linnie / Clune / Wilson - Shop additional sunglasses, eyeglasses, and sun clip styles
---