Sunglasses

Eyeglasses

Sun Clips

Collaborations

Extras

Stories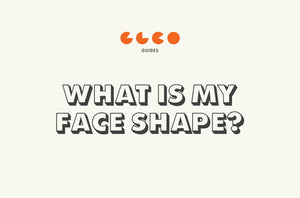 ---
Choosing Glasses for Heart Shaped Faces
---
How do you choose the perfect frame for your heart shaped face? Check out our suggested features and frames below. If you've got a heart shaped face, various facial features will have varying widths, typically wider at the forehead and tapering sharply at the chin. Sometimes this face shape is also referred to as the inverted-triangle shape. Influencers like Emily Ratajkowski and Brad Goreski have a heart shaped face, which can include these features:
• Wider forehead and cheekbones
• Tapered, narrow chin
• High and angled cheekbones
For your heart shaped face, it's best to find eyeglass and sunglass frames that are wider than your forehead. The trick to your perfect frame is just to have proportions play out, finding frame shapes that balance the varying widths of your face. The best frames will elongate your face while balancing the definition of your chin. Smooth, rounded contours can provide contrast. You can also add visual interest by echoing your face shape with two-tone frames, or adding an angled cat eye frame to sharpen your look.
OUR RECOMMENDED PICKS FOR HEART SHAPED FACES

ROUNDED FRAMES
Do heart shaped faces look good in rounded frames? Absolutely. The soft, rounded contours create the perfect contrast against the angles of your face. These frames come in varying shapes – Play with a super round shape like Paloma, Fonda, Royce, or our model-favorite, Wilson, which reached cult status thanks to top models like Kendall Jenner sporting the frames. For a slightly more approachable round shape, try a P3 shape, like Robson, now available in both sun and optical. The Clune and Hampton are also versatile customer favorites for their rounded, universally-flattering shapes. Long story short, heart shaped faces can never go wrong with rounded frames.
AVIATOR FRAMES
The best way to balance a wider forehead is to add width to the lower half of the face. Aviators are perfect for heart shaped faces as their bottom-heavy shape draws attention downwards. Linnie, San Miguel, and Ichi S are classic aviator styles with a rounded bottom that softens angular faces. Conversely, to accentuate your angles, check out Riviera, our squared aviator style. Have fun with a bold style like Harding, with a prominent single bridge and metal plaques, the classic style continues to be one of our most in-demand styles.
CAT EYE FRAMES
A good cat eye does wonders – it's like Botox, says our head designer Elena Doukas. While we're not going for Botox-level looks just yet, the Vista & Clare V. collab (now available in new colorways!) are sweetly feminine and flatter heart shaped faces. The uplifted corners of cat eye frames sweep the face upwards and give the illusion of a narrower forehead, while balancing a sharper jawline. For a more subtle cat eye, check out Del Rey, Emily Ratajkowski's go-to frames as of late, which perfectly complements heart shaped features with its slight winged style. Other subtle cat eye styles include Juvee, El Rey, and Glyndon. Still wondering whether the cat eye look is for you? Check out our guide to Cat Eye Frames.
SHOP THIS STORY
---