Sunglasses

Eyeglasses

Sun Clips

Collaborations

Extras

Stories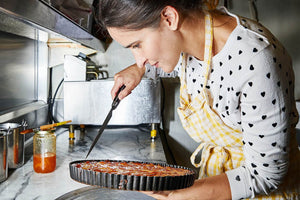 ---
Genevieve Gergis
Features /March 14, 2017
Words: Tiare Dunlap
Collaborator Photos: Dylan + Jeni
---
The Relentless Pursuit of Persimmons


Genevieve Gergis is at home in chaos. Her brain oscillates between processing a million things at once and a superhuman state of singular focus. This, as you can imagine, has its pros and cons, but she's found a way to make it work.
On the afternoon of our meeting, Genevieve was not in focus mode. She was twenty minutes late to our interview because while I was waiting for her inside Bestia—the massively popular restaurant she and her husband, Ori Menashe, run as a pastry chef/chef team—she was outside examining a shipment of persimmons. And to be perfectly honest, I kind of loved that.




Ori's the first to admit that he was hesitant to open his first restaurant on a dead end block so far out of the way, but he'd known Genevieve long enough to recognize that her inability to see the possibility of failure could prove oddly prophetic.




Now one of Los Angeles's most renowned pastry chefs, Genevieve had never even worked in a kitchen when she decided to take on this role at Bestia a few months before it opened in 2012. She made ice cream for the first time on a rickety second-hand machine two days before opening, ice cream now praised by the likes of Alice Waters and Nancy Silverton. Four years later, the restaurant that prides itself on homemade every-thing is packed every night and has single-handedly revitalized an entire city block in Downtown's Arts District. To this day, Genevieve and Ori pay the electricity bill for the street lamps they worked with the city to install.




To clarify, it's not like she just picked out what-ever instrument was shiniest and hopped on a plane to Austria. She'd been playing the French horn for her entire life and was planning to do it forever. But the reality of life as a working musician, most notably the endless networking, proved prohibitive. So she put aside wind instruments but channeled the feeling of sitting in a room alone practicing perfection. Years later, Genevieve taught herself to cook pastries in a similarly singular and obsessive manner. She began by studying chemistry. "I just started looking things up," she says. "How do eggs work? What do yolks do? What happens when you heat them? How do you heat them? And then I just figured out how to do it."




Once she had the fundamental chemical reactions down, Genevieve focused on creating desserts she would want to eat. She didn't follow recipes; she invented. To keep with Bestia's initial rustic Italian theme, she focused on bringing traditional Italian flavors to her creations. But her dishes are far from traditional. Her process takes high quality ingredients and elevates their flavors to reach their full potential. Which is precisely why that shipment of persimmons really needed inspecting.


---