Sunglasses

Eyeglasses

Sun Clips

Collaborations

Extras

Stories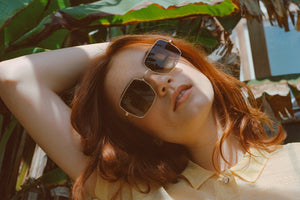 ---
FH/18 New Sunglass Styles
Guides /September 27, 2018
---

For our Fall/Holiday 2018 Collection we're experimenting with new acetates, ultrathin metal constructions and semi-flat lenses, reworking timeless silhouettes and color combinations through a contemporary filter. From optical there's the metal Robson and its angled take on a P3 shape. In sun we're excited about the acetate Horizon and Pier with enclosed metal eye wire and filigree detailing. There's lots of new colors for our glass and CR-39 lenses, including the Crescent and Seville's half gradients and the Steiner's pop pure glass tones. We've also brought back some of our old school favorites—Louella and Wellesley, Hampton and Kinney—for the fall season.

Vintage Sunglass Frames

After months of tiny sunglasses, we're excited to see oversized frames back in the mix. Our newest sunglass style for the ladies, Crescent is an oversized square frame with a thin metal construction, distinctive bridge, and semi-flat gradient and mirror lenses. These vintage-inspired frames are especially flattering on round face shapes and are available in four head-turning colorways.
Retro cat-eye sunglasses are (still) ruling the sunglass scene. We're bringing Louella back from the archives, resized for a better fit and recolored with semi-flat lenses. This classic sunglass style for women features a subtle cat-eye frame shape, designed to flatter any face shape. Gold-tone hardware and an oversized silhouette give these frames a glamorous and timeless look.

Modern Sunglass Styles for Men and Women

Classic P3 sunglasses get a modern update with Horizon, a new sunglass style for both men and women. Fitted with an enclosed metal eye wire with filigree detailing and semi-flat lenses in a rainbow of colors, the Horizon has a retro appearance with all the modern eyewear finishings.
For a more angular take, check out Pier, the rectangular counterpart to Horizon. Its rectangular shape gives definition to round and oval face shapes, and like Horizon, Pier exhibits an intricate interplay of acetate and metal and is available in a range of tints.

Bringing Back the Classics

A perennial favorite from our classic collection, Hampton adds four new colorways to its range. It's a modern take on the P3 shape and adds just the right prep to class up your look.
Give your standby aviators a fresh update with a square silhouette. Marr is a new square aviator style for men featuring tortoise and monocolor inside windsor rims made from real acetate with complementary semi-flat CR-39 lenses. Its angular shape and sleek top bar give structure to any face shape.

90's Inspired Fall Fashion

Like it or not, 90's fashion is back in full swing — and we're embracing it wholeheartedly. Nail the throwback trend with Steiner, a new rectangular metal sunglass influenced by 90's silhouettes, featuring glass lenses in a range of bold colors. Calling it: everyone will be wearing these shades this season.
Fans of Seville will be happy to know that there are now even more colorways to choose from. This season, Seville is available in semi-flat green, rose quartz mirror, and black half-gradient lenses.

The Perfect Sunglasses to Accessorize Your Look

Everyone's favorite cat eye collab with Clare Vivier is back—now in jewel-toned and classic French-inspired acetates perfect for fall. Effortlessly chic and feminine, these subtle cat-eye sunglasses are the only accessory you need to master the art of French-girl style—with a generous dose of California-cool.
Next time you want to give your casual outfit some serious style cred, opt for double bridge sunglasses. Achieve the look with Sanborn, an oval style featuring a sculpted double bridge and vintage-inspired textured filigree details with semi-flat glass lenses.
If you're all about sticking to the classics, Kinney is the frame for you. Our best-selling sunglasses for both men and women, Kinney adds three more colorways to its lineup, giving you a total of nine variations to achieve easy, effortless style.
---