Sunglasses

Eyeglasses

Sun Clips

Collaborations

Extras

Stories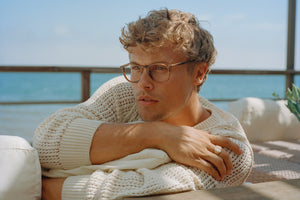 ---
FH/18 New Eyeglass Styles
---

For our Fall/Holiday 2018 Collection we're experimenting with new acetates, ultrathin metal constructions and semi-flat lenses, reworking timeless silhouettes and color combinations through a contemporary filter. From optical there's the metal Robson and its angled take on a P3 shape. In sun we're excited about the acetate Horizon and Pier with enclosed metal eye wire and filigree detailing. There's lots of new colors for our glass and CR-39 lenses, including the Crescent and Seville's half gradients and the Steiner's pop pure glass tones. We've also brought back some of our old school favorites—Louella and Wellesley, Hampton and Kinney—for the fall season.
Our first frame needs no introduction...Hampton is our very first style from our debut collection and continues to be our best seller; this timeless P3 acetate frame expands its offerings this season with three new colorways for fall.
Another GLCO icon, Kinney returns this season adding two new colorways to its lineup. With classic proportions and a keyhole bridge, Kinney is an enduring style that's flattering on both men and women.
Rounding out our best sellers, Clune gets a seasonal refresh too, adding a new size to its range. This popular round shape eyeglass frame is a perennial favorite and is now available in multiples sizes in both old and new acetate colorways.
Wilson goes for gold. Our iconic round metal eyeglass frame is now available in gold-matte with filigree detailing and matching acetate temple time.
Robson is our newest style with a timeless P3 shape. The not-so-perfectly-round silhouette of the eyeglass frames flatters more face shapes, and the thin metal construction makes it easy for everyday wear. Robson's P3 shape takes its origin from the iconic eyeglasses worn by the military in the 1930s—and we're betting it will rise up to best seller ranks.
You loved our Playa sunglasses, so we made them in optical too. With shiny sculpted metal temples and glowing acetate inserts in all new colorways, the Playa's got you covered for rainy days come this fall.
Winward comes back this season with four new contemporary colorways. This frame is a smaller style with a classic P3 oval shape with tapered rims, and is available in two sizes.
It's hip to be square when you're wearing the Tuscany. This oversized thin metal eyeglass frame features new metal plating colors and matching temple tips. Retro frames are experiencing a renaissance—and, if history taught us anything, Tuscany's where it's at.
For those who prefer a more subdued look, Marco is a solid option with a traditional rectangular style that offers a welcome relief from the ubiquitous wire frames. Updated with a slimmed down look and subtle beveling in a variety of acetates, this frame gives modern flair to a classic.
Wellesley, our popular acetate style with a saddle bridge and prominent temples, is back, reissued in a larger size. Wellesley's wayfarer shape works for both men and women and is available in classic and transparent colorways.
Make a bold statement with Bentley, an oversized rectangular eyeglasses frame. Generous curves make the frame ideal for larger faces and add a dose of personality to your style. This season, Bentley is available in two new matte colorways.
Midcentury modern has swept the design world, and it's manifested in our newest men's style, the Thornton. With midcentury influenced flared temples and a keyhole bridge in a range of new and old acetates, this frame makes an icon feel fresh and modern.
Long overshadowed by the more popular round and square shapes, the oval is finally getting the attention it deserves. Oval eyeglass frames give you the best of both worlds, softening angular faces and accentuating rounder faces. Linden is the perfect oval optical silhouette, crafted with sculpted metal features and inside acetate windsor rims in classic tortoise colors.
For more defined angles, look to the Preston, the square counterpart to Linden. Round faces and softer features will especially benefit from the contrast provided by the square shape, but the curved edges make it versatile enough for most face shapes.
---