Sunglasses

Eyeglasses

Sun Clips

Collaborations

Extras

Stories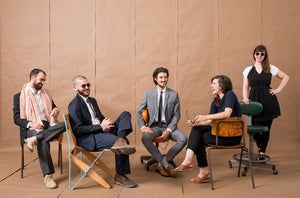 ---
Esprit de Corps ft. Adi Goodrich
Photos: Julia Stotz
Words: Natalie So
---
featuring Adi Goodrich
During an abnormally gray and muggy week on the east side of Los Angeles, I visited the studios and homes of five Angelenos: Adi Goodrich, Sean Pecknold, Eric Johnson, Graham Keegan, and Stephanie Gonot. None are natives, yet they all seem to have found a home here. Each moved to Los Angeles for the same reasons that most people transplant themselves to new soil: a relationship, a job, or an industry — but perhaps the most salient and timeless, yet hopelessly abstract reason is the promise of possibility. We move to leave the past behind, to stumble across a better future. No matter how cynical or jaded, we're always secretly trying to renew our hope, to rekindle our fire, to redeem the faith we once had in ourselves.
In LA, the most salient and timeless, yet hopelessly abstract reason is the promise of possibility.
To the uninitiated, Los Angeles is certainly not the most friendly or cozy place. It's at once a metropolis and a collection of suburbs, freeways, dried-up hills, and littered sidewalks; its radius of sprawl so wide and varied that it resists easy categorization, or even comprehension for that matter. Jack Kerouac wrote it was the loneliest and most brutal of cities. Joan Didion said that the city's only secular communion is the freeway experience. But Adi, Sean, Eric, Graham, and Stephanie might beg to differ: in LA, they have found a creative communion unhindered by the multiple degrees of separation that urban living, despite its supposed density, seems to enforce. Theirs is a communion predicated not on belief but on the collective pursuit of their creative dreams, in this place they're calling home for now.

In any city, friendship is perhaps the greatest of fortunes. If this is true, this group has struck gold. Adi and Eric grew up in the same small town in Illinois and have been best friends since the third grade. Adi and Stephanie met each other early on in their careers and discovered that their skill sets were complementary. Adi and Sean most recently collaborated on a Nicolas Godin music video, and are currently working on a new project together thanks to a grant from VSCO.
In any city, friendship is perhaps the greatest of fortunes.

Though each person in the group has worked together with at least one other, they all have their own distinct, creative businesses — furniture, set design, textile development, photography, and animation. Common between all is a commitment to the handmade, to aesthetic details, and to the artistic process, no matter how time-consuming or labor-intensive. Despite what has been said about the challenges of living in Los Angeles, this crew seems to have found a way to create, collaborate, and hustle — sometimes with friends, sometimes alone — with the kind of artistic momentum that requires direction, speed, and gravity. To the outsider, this might, in fact, look like an artistic flourishing. More importantly, they have found what might be most rare and desired in any city: the sense of belonging to a community. This may be the new urban dream of our generation.
ADI GOODRICH
Adi Goodrich recalls spending summers submerged in a water-filled forest, a surreal landscape that emerged when the river flooded near her mom's house in Momence, Illinois. She would be inside making rafts for her cat, watching the water levels rise, a canoe was required to get to the nearest bus stop. And even when the water dried up, there were only golden cornfields for miles around. "No one I knew grew up like this," she says, her speech still inflected with a Midwestern twang.

Perhaps it was the familiarity with these strange and isolated places that gave her the confidence and vision to create worlds that most people are unfamiliar with. That is Adi's job description after all. As a set designer and art director, she builds the physical surroundings, objects, and backdrops used in photos, ads, music videos, and movies. Adi is responsible for conveying, among other things, mood, tone, and context through her choices of color, shape, and material. Adi's choices are typically distinguished by their electric hues, eye-catching geometries, and near-fantastical whimsy. Plants and spherical objects are recurring motifs, as are cut-out shapes and floating limbs.

Unlike many other set designers, Adi builds everything from scratch and has done so since she started her own studio six years ago. She did this initially to cut costs, but she quickly discovered that she preferred the direct connection to her materials that working with her hands afforded. Her insistent DIY mentality has required both versatility and collaboration. To produce a full set, she hires a crew, usually consisting of her artistic friends, to help her paint, sculpt, build, cut, and draw. No matter the task, it's done in-house. She admits that working this way often means choosing the hardest way possible, but she's committed to the process. "To make signs with hand-cut letters is insane, but we do it anyway," she says. "We're all a little crazy to do what we do."
Shop featured sunglasses & glasses
---