Sunglasses

Eyeglasses

Sun Clips

Collaborations

Extras

Stories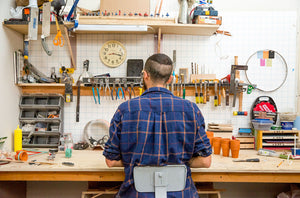 ---
Esprit de Corps ft. Eric Johnson
Photos: Julia Stotz
Words: Natalie So
---
featuring Eric Johnson

Eric is a furniture designer who has been "building stuff" for as long as he can remember — starting with the Short Circuit Johnny 5 robot that he constructed as a kid in Momence. After robots came skate ramps and tree houses. At 19, he moved to Chicago, where he first encountered the work of sculptor Alexander Calder, his artistic hero. The fluid motion of Calder's forms appealed to him, the shapes so natural and organic that they looked like they belonged in the environment in which they were presented. It's this feeling of belonging that Eric seeks to emulate in the construction of his furniture.

In Chicago, Eric worked on a project called Thistle Objects, creating furniture out of all salvaged and found material. But he thinks that the "reclaimed" movement has been played out; now he is focusing on developing a collection of lamps, planters, chairs, shelves, and customized objects, using more steel, plywood, bright pops of color, and an occasional joke. Eric's loveseat concept would include a padded bench with wooden panels extending out from both sides—each holding a prickly cactus plant. The lovers would sit between the cacti, scooting closer to each other to avoid the needly spines at all cost.
Espirt de Corps
The Esprit de Corps series explores the creative camaraderie and communion of Adi Goodrich, Sean Pecknold, Eric Johnson, Graham Keegan, and Stephanie Gonot. Despite the multiple degrees of separation that urban living in Los Angeles seems to enforce, they have found what might be most rare and desired in any city: the sense of belonging to a community.
---