Sunglasses

Eyeglasses

Sun Clips

Collaborations

Extras

Stories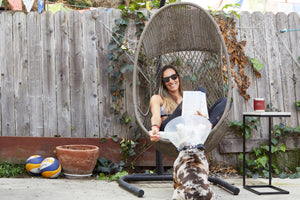 ---
Emily Stockman
This pro beach volleyball player and U.S. Olympic hopeful is a self-professed adrenaline junkie. She takes us through the fuel that powers her morning.
---
By Emily Stockman
I'm pretty mellow and even-keeled. I don't have big highs and lows. So mornings are about getting oriented and picking myself up. I'm out of bed at 6:00am and getting coffee going is immediate. I go to Costco and find the biggest container—Folgers or whatever they have. I like it sweet, so the creamer is key. Lately, I buy oat milk creamer in Hazelnut, French Vanilla, and because it's fall now, I'm obviously doing the Pumpkin Spice.
I get bored with food, so breakfast is something new every day. One morning will be oatmeal, or overnight oats. Another might be avocado toast or a veggie scramble. A go-to for me is three-ingredient pancakes: I do a mashed banana, an egg, and a tablespoon of nut butter. They're super good and super easy, and I can add some protein powder to get some extra flavor, too.
While the coffee and breakfast is happening, I play with my English bulldog Gilbert. I'm obsessed with him. He oinks like a pig and has spots like a cow! Then I slowly move into stretching, and getting my body activated. I do foam rolling, and band work, with loops around my ankles and knees, paying attention to my glutes, and my shoulders. All of that gets me ready for the sand.
I've always loved the quote, attributed to Steve Prefontaine: "To give anything less than your best is to sacrifice the gift." Even if my body only feels 70%, I'm going to give 100% of that 70. Me and my teammate, Kelley Kolinske, are super close, and I think about it in relation to her: if I'm not giving everything I'm letting her down, I'm letting my coach down, and our support system down. So that's what I try to focus on each day.
Practice is at 8am and I set the tone on the drive over with music: everything from Chris Stapleton to Cardi B depending on how I'm feeling that day. I love beach volleyball and living in California, but I miss the mountains of Colorado, where I grew up. I spent two months back there with my family at the beginning of the pandemic doing all the outdoor activities I used to do as a kid: camping, mountain biking, and riding motorcycles. My dad is an adrenaline junkie and I think I inherited that from him—any free weekend I have I'm trying to get away to get some kind of rush: snowboarding, biking, or skydiving. My trainers and coaches don't love it. But they know it's a part of me. When coaches let their players be their full selves, that's when players can really shine. Riding my motorcycle on the side of a mountain — there's high risk, sure — but when I step back on a beach volleyball court, there's nothing I'm going to be scared or fearful of.
In partnership with HANAH.
SHOP THIS STORY
---