Sunglasses

Eyeglasses

Sun Clips

Collaborations

Extras

Stories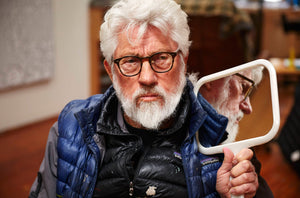 ---
Ed Moses
Photos: Pascal Shirley
WORDS: MEREDITH DARROW
Location: Venice, California
---
Renaissance Man
Renaissance Man
Ed Moses is resolute about Venice. He loves it. It's where he lives. It's where he's always come back to, for better or worse. Having stints in New York, Madrid, San Francisco, and Virginia, the Long Beach native knows that Venice is his scene. As a young man Moses transferred to UCLA to study art and rented a shack on the beach for a whopping 9 bucks a month, a tiny house nestled in between the oil barracks. Shortly thereafter, Moses met local artists Billy Al Bangsten and Ken Price through fellow UCLA art student Craig Kauffman. Billy was the surfer portrayed as the iconic character Moondoggie in Gidget, but Moses claims Ken price was actually the best surfer of the bunch. This group of Venice artists showed at the first exhibitions of what would later become the legendary Ferus gallery. Ferus, started by Walter Hopps and Ed Kienholz in 1957, was the first gallery in LA to show Andy Warhol and other East Coast heavyweights like Roy Lichtenstein, Jasper Johns, and Frank Stella. The gallery championed the local California art community and distinguished itself by becoming the birthplace of major art movements.

Personal style has always been important to Moses, which is reflected in his home studio and his "uniform." Today at lunch he is looking exceptionally stylish in bright green pants, a worn linen shirt with paint splatters on it from the studio, a vest, and a beat up fedora. We reminisced about his 60s uniform of Levis, Clark desert boots, an Indian beaded belt, a work shirt, and a beat up brown leather jacket. Like the rest of his crew, Moses shopped at the Salvation Army. He was never a hippie and thought that group was "a bunch of clowns." Moses and his group had laid their claim long before the hippies came simply because of the cheap rent and their love of the ocean. Plus, it gave them ample space to make their work in peace because there was no one around. However, because of the desolate state of Venice at the time, the watering hole of choice was in Hollywood at Barney's Beanery. In close proximity to the Ferus Gallery, Barney's served as a place to mingle and socialize for the rustic crew.

Around this time Moses met his future wife, Avilda. He was in his mid 20s, and she was a knock-out southern girl from Virginia, and supposedly rich. After a courtship and proposal, Avilda went home to prepare for their wedding. Moses followed shortly after hitchhiking his way across the country for the event. When his fiancé and her mother came to pick him up in town, her prim and proper parents were aghast at his disheveled and unkempt look as well as his casual California nature. Sporting his "uniform" and a fresh pair of Indian moccasins, the women in town were smitten for his cool West Coast style, while the men stared with grimaces of disdain. Shortly after the wedding, the newlyweds became expectant of their first child. At the time Avilda was obsessed with Henry Miller, so they decided to move to Big Sur. Moses got a trailer and a bull terrier named Tulip and started off the drive. Meanwhile, Avilda stayed in Virginia to have the baby, planning to meet him there soon after. However, Moses never made it to Big Sur, instead he wound up on Fillmore Street in San Francisco. The family reunited there and returned to Venice the following year.
Personal style has always been important to Moses, as reflected in his home studio and his "uniform."
A man at the epicenter of the LA art world, Moses could enthrall an audience with countless tales from his past. He has a self-proclaimed "eruptive temper" and has had epic encounters of all kinds ranging from challenging Norman Mailer to a boxing match to flirtations with Lauren Bacall and Sharon Stone. Now an octogenarian, he's still active in the studio daily. He says that he will show with any gallery that will take him because then he gets to do whatever he wants. He doesn't want to be confined by any single dealer's demands. He just can't wait to get up every morning and paint. Despite his disdain for the word, being Ed Moses is an art.
---