Sunglasses

Eyeglasses

Sun Clips

Collaborations

Extras

Stories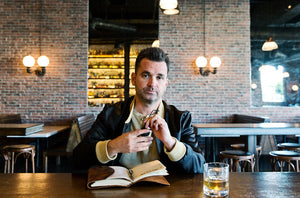 ---
Dan Dunn
Words: Dan Dunn
Photos: Dylan + Jeni
---
"What are you having?"
It's a question as old as the bartending profession itself, yet according to some of my sources behind the stick, one a great many regular tavern-goers have a hell of a hard time answering on the spot. And those bouts of indecision can, at times, be a real pain in the ass for the pouring pros. As a Hollywood-based gin-slinger friend of mine put it, "The problem lies in customers not having a go-to drink at the ready. Not a big deal on a Tuesday afternoon when there are two people at the bar and I can offer suggestions, but on a Saturday night when thirsty people are four-deep and someone starts hemming and hawing while ordering it's, like, come on, what the hell do you want already!"

Your go-to drink, simply, is the one you order when your brain is on autopilot. When the decision to be in a bar in the first place is the sum total of your cognitive capabilities on any given night. A fall-down drunk's fallback position.

For many years mine was a whiskey sour. Mainly because that's what my dear old dad drank before he gave up the sport for good and, well, like most young men who hail from working class Irish-Catholic families in Philly, I grew up emulating my proletarian pops. Hell, even to this day I'll sometimes slather myself in that most rank-and-file of fragrances, Brut by Faberge — an homage to my old man's olfactory fly-ness. (The cougars go wild for it, just fyi.)
Consuming drinks that contain, you know, calories is frowned upon in Hollywood.
---