Sunglasses

Eyeglasses

Sun Clips

Collaborations

Extras

Stories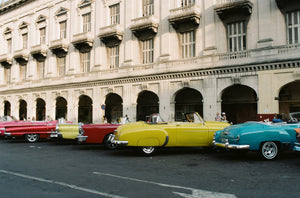 ---
Cuba
Words + Images: Brittany Bogan
---
The word is, "Americans are rushing to Cuba before Americans rush to Cuba". I'd be lying if I said that was not true for me. I have been wanting to visit Cuba since I can remember. To me, it was always a mysterious forbidden island. As soon as I had the opportunity I had to go see for myself.
Havana was our first stop: a city rich with culture, where history is preserved. Images of Fidel Castro, Che Guevara and Camilo Cienfuegos grace the walls of its tall buildings, the elegant colonial homes bleached from the sun. Their furniture is well made and rebuilt many times over, just like the cars. The cars are antique and come in every color of the rainbow. They spray thick clouds of exhaust as they drive away, but I don't mind as I love to watch them speed down the road. The air is hot and humid and all doors are unlocked and windows ajar. Cubans live openly. Whenever we walked into any half open door, we were greeted with a kiss and coffee. Everyone is smiling. Children are playing outside at all times of the day, jumping rope or kicking around anything resembling a ball. The scraggly animals roam free, trying to join in on their games. As it gets closer to night, entire families can be seen dancing in the street. It is a romantic time warp. There are few cell phones and only designated areas to use the internet. There are no storefront ads or grand billboards. It is a refreshing digital and marketing detox. It is a photographic dream.

We planned very little for this trip. Not knowing what to expect, we wanted to go wherever we felt was right in the moment. We stayed in casa particulars, where they serve homemade breakfast with mammee, papaya, guava and pineapple. We walked around Old Havana and into welcoming homes. We visited the Instituto Superior de Arte with local artists and saw dancers practicing for a recital. We went to see an incarnation of the Buena Vista Social Club musicians with their last remaining original member. She sang, women shook their maracas and we drank Cristal beer and smoked cigars. We watched the sunset every night on the Malecón, where we found a kid fishing to feed his cat and a man happy to share his rum with us. It was the warmest welcome, the people and the air. So warm we had to leave the city for the beach.
The air is hot and humid and all doors are unlocked and windows ajar. Cubans live openly.
We rented a car and drove east to the peninsula. We passed wild horses, cows, goats and lush greenery of many palms, sacred ceibas, kapoks and shortleaf figs. We got lost in a cemetery and finally landed at the greatest beach my eyes have ever met. It is a tourist destination, abundant with hotels and resorts, all of which were booked. We spent the night knocking on random doors to see if they knew of a casa particular where we could stay. One made a few calls and helped us find our perfect little home with the sweetest abuela. We spent our days there swimming in the clear blue water, falling in love with all the beauty — the people, the architecture, the cars, the ocean, the plants and the rum in my drinks.

In some ways life is simpler in Cuba, untainted by the complications that come with living our lives back here. But I was on vacation, so what do I really know about people's lives there? I wanted to hear more of their stories, but my Spanish would only take me so far. While it's true that life everywhere has its downsides, Cuba has charmed me more than the others. My hope is that as things change the good remains.
---