Sunglasses

Eyeglasses

Sun Clips

Collaborations

Extras

Stories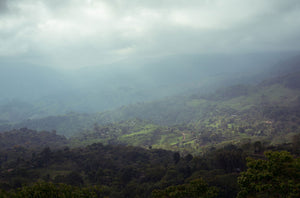 ---
Costa Rica
Photos: Cristina Dunlap
Words: Patrick Sullivan
---
Costa Rica: Paradise for Tech Bros Learning to Surf
Pura Vida, the self-proclaimed motto of Costa Rica, meaning "pure life," seems to hit that mark with ease. A country that inspires woolgathering of tropical beaches with perfect surf, rain forest canopy views of active volcanoes, and enchanting encounters with spider monkeys, butterflies, sea turtles, sloths, crocodiles, toucans, jaguars, iguanas, and scarlet macaws can only be seen as a veritable paradise, utopia realized, the Shangri-La of Central America. And rightfully so. It is pretty awesome.

Costa Rica has changed much since its independence in 1821. However, the country has essentially maintained a peaceful existence ever since its inception. Any jingoistic Tico will tell you that even amid surrounding nations riddled with civil war, drug violence, and other effects of poverty and corruption, Costa Rica abolished its military in 1949, albeit accomplished with the ongoing support of the US military. This peaceful reputation coupled with amazingly beautiful scenery and an extremely accessible economy has helped to make the country a haven for foreign investors, especially rich hippies and Canadians. Cheesy themed restaurants, boutique hotels, surf camps, and yoga retreats have become almost as common as palm trees and sand. And although wealthy outside influences may one day ruin the Costa Rica we know, it is not like it's on Google Maps street view yet. So, don't get your brazilian cut bikini in a bunch.

Costa Rica has been a popular tourist destination for decades now, and it's no wonder. Travelers have plenty of options when deciding what to do. The country boasts some of the most stunning beaches and best waves the Central American coasts have to offer, on both the Pacific and Caribbean sides, making it a surf vacation destination to rival even Hawaii or Indonesia. Even if you don't surf, no worries. Costa Rica has much more.
It's a choose-your-own adventure kind of country, with millions of possible outcomes.
In just a day's trip from San Jose, you could go zip lining through rainforest canopies with views of Arenal, their active volcano, and visit a butterfly sanctuary located in a quaker village where they make cheese. Or maybe instead you could head east to Puerto Viejo on the Caribbean coast and enjoy some snorkeling and lobster dinners. Just try not to get too freaked out by the voodoo chicken sacrifices going on outside your hotel room. It's a choose-your-own-adventure kind of country, and there are millions of untamed possible outcomes.

So, if you haven't yet, you should check out this Latin American gem. Most people seem to end up in Tamarindo. And if you do, you'll probably be pleased, but get out and explore beyond the tourist magnets. From Montezuma to Monteverde to Playa Hermosa, Costa Rica is lush with awe-inspiring scenery, welcoming people, and tons of outdoor fun. Pura Vida!
---