Sunglasses

Eyeglasses

Sun Clips

Collaborations

Extras

Stories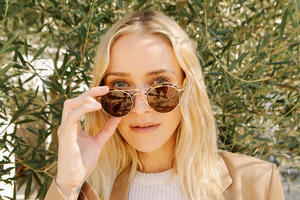 ---
---
We are living in a world full of conveniences. With flying cars and same-day drone delivery upon us, why wouldn't we want things to be as easy as possible? We all are bound to be in front of a computer or some sort of device one minute, and outdoors with the sun's UV rays the next; which means more and more people are in need of multi-purpose eyewear. So how do we answer a call so complex? Everyone has a unique situation which calls for a unique pair of spectacles -- so at Garrett Leight California Optical we found a unique solution.
Now that you have your everyday eyeglasses for daily correction, how do you protect your eyes from UV rays while out running around from meeting to meeting? Prescription sunglasses can be the most obvious answer, but one that often comes as an afterthought for many patients. Transition lenses are a great option but for many they have the unfortunate downside of not working in the car. So what other options exist for prescription glasses that can be used anywhere that life takes you?
The answer: sunglass clips. They have come quite a long way since you may have last seen them. Many cannot believe that after having clip on sunglasses in the 90s, they would ever be cool again. Well, guess what? Sunglass clips are DOPE again. Garrett Leight has changed the game with such a simple idea: a sunglass option that snaps on top of an existing prescription lens. The all-in-one setup makes it easy to throw your clip on shades on and go.
Our sunglass clips are offered for many of our styles, most in different sizes and colorways. Since I started working for GLCO, we have had some frame/clip combos that are always absolute FIRE. Penmar Caramel Laminate with an Antique Gold with Olive Gradient Clip? SO MUCH SAUCE I NEED A NAPKIN! Wilson with a sunglass clip is a timeless option; everyone should have at least one in his or her collection. Kinney and Hampton have amazing sunglass clip options and tend to be some of our most popular setups for both men and women. All GLCO sunglass clips have a folding component at the bridge that allows for compact storage.
And of course, the Getty A and Mulholland AL, both from Mr. Leight. Each with considerable detail that ensure a PERFECT fit and with custom, signature design elements that take your style to the next level of sophistication.
Did you fall in love with a GLCO or Mr. Leight optical style we have not produced a sunglass clip for? No problem at all: we can have custom clips made for any style you want. People are always looking for sunglass clips for their prescription glasses, so we are fully prepared. The custom sunglass clips are all traced out and made to fit any GLCO or Mr. Leight frame. But please note, the only downside to the custom sunglass clips is that they won't fold. You can create and order custom clips at any of our GLCO flagship locations in California, New York, and Austin. The main takeaway from this guide is this: just know that sunglass clips are out there and the game has changed. It makes life easy and can add another level of style to your eyewear to get a pair of clips for your spectacles. And the best part is the versatility that sunglass clips offer: if you're ever feeling like you want to change it up, you can always pull from a variety of options. Whether you're going for a conservative office look or a surf's-up-weekend-warrior vibe, GLCO and Mr. Leight has a sunglass clip to fit.
SHOP THIS STORY
---